Brazil cancels preparations for President Rousseff US visit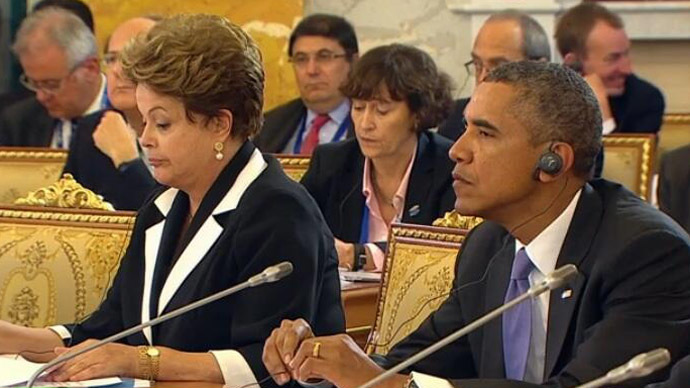 Brazil has canceled preparations for the visit of President Dilma Rousseff to the United States over reports she was the target of National Security Agency (NSA) surveillance, AFP reports.
A presidential spokesperson said a trip by a Brazilian delegation to prepare for the president's October 23 visit to Washington "was cancelled."

Following the spying revelations, a Brazilian official told Reuters on Wednesday that Rousseff was set to take punitive in addition to canceling the visit, which could include a halt on plans to purchase F-18 Super Hornet fighters from Chicago-based Boeing Co.
"She is completely furious," the official said.

"This is a major, major crisis .... There needs to be an apology. It needs to be public. Without that, it's basically impossible for her to go to Washington in October," the official continued.
On Wednesday, Brazil announced an investigation into domestic telecommunications firms had been launched to determine if they had illegally shared data with the NSA after it was discovered the agency had been spying on Rousseff.
A Brazilian news program on Sunday said the NSA had spied on emails, phone calls and text messages of both Rousseff and Mexican President Enrique Pena Nieto. The report by Globo TV was based on documents leaked by fugitive former NSA contractor Edward Snowden.
"It is clear in several ways that [Rousseff's] communications were intercepted, including the use of DNI Presenter, which is a program used by NSA to open and read emails and online chats," Glenn Greenwald, the Brazilian based Guardian journalist who helped break the Snowden leaks, told AP in an email.
The Brazilian government denounced the NSA surveillance as "impermissible and unacceptable" and a violation of Brazilian sovereignty.
The American ambassador to Brazil, Thomas Shannon, denied reports the NSA was monitoring communications on Brazilian territory or collaborating with local telecommunications companies after he was summoned by the government to answer for the spying allegations.

You can share this story on social media: