Violent protests across Bosnia injure 150, as people demand govt. overhaul
At least 150 people were injured, as protesters across the former Yugoslav republic of Bosnia rebel against corruption, joblessness and political stagnation. Scuffles have reached the presidential residency, resulting in the use of water cannon.
Several major cities in the Balkan state are gripped by dissent, which started as a local unemployment rally and grew into a nationwide protest – the worst outburst of violence since the regional war ended back in 1995.
The unrest that blew up in the capital, Sarajevo, on Wednesday had quickly evolved by Friday into violent scuffles with law enforcement, and the setting of government buildings on fire. There were at least 105 injured by the end of the week, as police launched stun grenades and rubber bullets at angry egg and stone-throwing demonstrators.
CHAOS in Bosnia: Tuzla Cantonal Building in on fire. Protestors chanting "We are on our way to Sarajevo." pic.twitter.com/zwVmY57U5W

— BHDragons.com (@BH_Dragons) February 7, 2014
With one in five people in the country living below the poverty line (by Reuters' estimates), the numbers that took to the streets were great. Eyewitnesses reported on Friday that as many as 6,000 people were on the streets of the capital Sarajevo, which has a population of about 527,000. Two cars and a police cabin were set on fire, as the raging crowd was pushed back from the government residency with water cannon.
Tear gas and rubber bullets were also used in the course of those several days.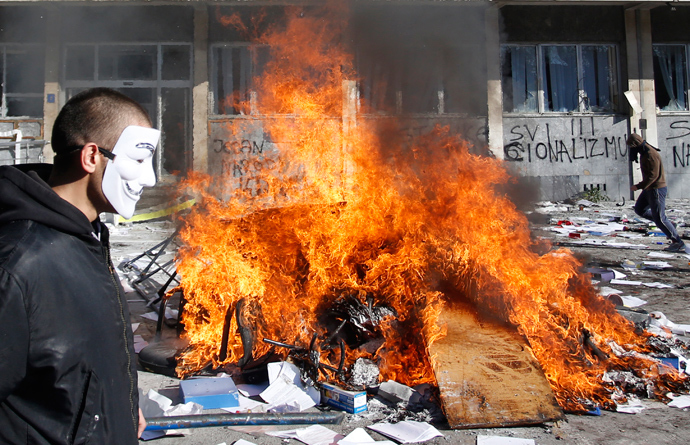 In the town of Zenica, rioters successfully set fire to another government building, chanting "Revolution!" and "Thieves!" Around 3,000 people were on the streets, leaving a total of 55 people injured, 23 of them police officers, AFP reported.
But the most violent clashes are occurring in the northern city of Tuzla, where, as of Friday 11 more people were injured, following Thursday's 130 people – mostly police. Factory closures led to a quick surge in anti-government sentiment.
Another government building was set on fire, as several officials were seen escaping through the windows. The city is also suffering looting, with people emerging from municipal buildings and escaping with computers. There have also been attacks on supermarkets.
Aftermath of most governmental buildings from the first day of #BosnianSpring. pic.twitter.com/QpQzQuriJ7

— Anonymous Operations (@YourAnonCentral) February 8, 2014
"I think this is a genuine Bosnian spring. We have nothing to lose. There will be more and more of us in the streets, there are around 550,000 unemployed people in Bosnia," as Reuters was told by Almir Arnaut, an unemployed economist and activist from Tuzla. Another, a construction worker, told AFP that "people are hungry."
The rapidly escalating situation has led to the chiefs of the regional Tuzla and Zenica government resigning. The chaos is unprecedented, given the common view that Serbs, Bosnians and Croats would rather risk political stagnation than ever returning to the kind of violence they saw during the Bosnian War of 1992-95.
"This is so sad," a woman standing by a burning government said. "It took four years of war to destroy it and vandals now burned it in one day. This is just as in 1992."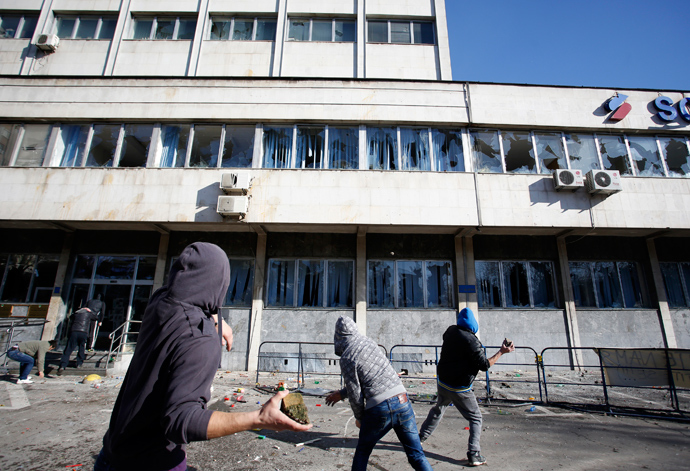 Zenica, Bihac and Mostar are some of the other population centers that have witnessed clashes. However, peaceful rallies also occurred in support of unity among Bosnia's ethnicities. In the Bosnian-Serb city of Banja Luka, 300 peaceful citizens came out to do just that.
"We are all citizens of Bosnia and we all have the same difficult lives here," Aleksandar Zolja, organizer and president of the non-governmental organization Helsinki Citizens' Assembly, said at the rally.
Some in Serbia's capital also stood in solidarity with the Bosnians.
Four Belgrade activists show support for people in Bosnia in centre of town. Sending their 'love to workers in BiH'. pic.twitter.com/0L4L19F491

— Mitra Nazar (@Mitrala) February 7, 2014
The demonstrations began on Wednesday, the tipping point being controversial privatizations of key local industries, which since 2000 have resulted in eventual bankruptcies, leaving much of the working population unemployed.
Bosnia is now considered the poorest country in the whole of the former Yugoslavia.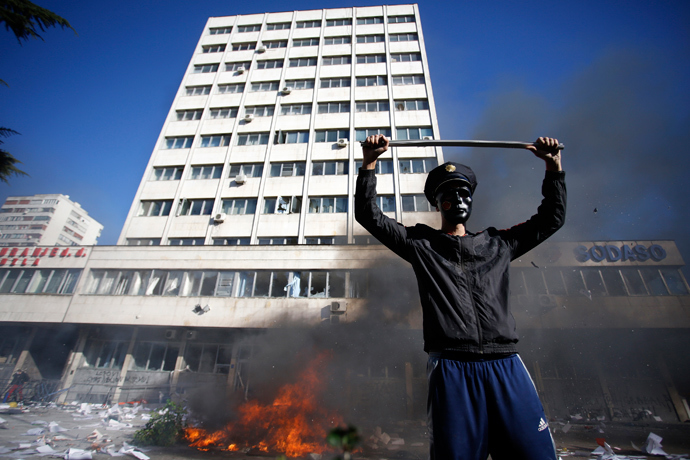 But as protests have spread, so the demands have broadened. The demonstrators are now asking not just for better economic conditions, but for an overhaul of the political system. This has led to a televised address by the Bosnian tripartite government presidency's chairman, Zeljko Komsic. He asks for peace, while taking the blame as politician.
"We are responsible for everything... Nothing good will come from anarchy," he appealed to the country, promising to hold an emergency meeting of the leadership. Prime Minister Nermin Niksic, who held the meeting on Thursday, has recognized the validity of the protesters' complaints, but implored them to refrain from violence.
According to non-profit Transparency International, Bosnians experience more corruption than any other Balkan state.
A presidential election is scheduled for October.
You can share this story on social media: