Border-crossing dog sparks media frenzy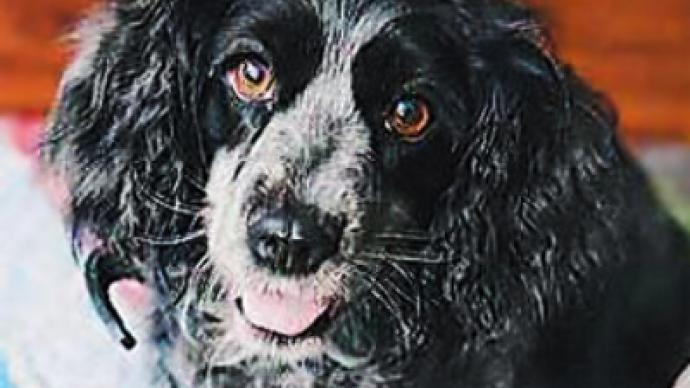 A Russian dog, which crossed the Finnish border, became a symbol of humanity as border guards and dog lovers in both countries put all their effort into saving the poor animal's life.
The cute spaniel was spotted on Finnish territory near the Salla checkpoint on September 10, Izvestia newspaper reports.
"The dog was running five meters away from the frontier. She didn't respond to commands in Finnish so we thought that she came from the territory of Russia," Sampo Vaisanen, officer of Finnish Customs at Salla checkpoint, said.
The border guards had no problem in catching the dog. She approached the people with joy, waving the stump of her tail. This is whenall doubts that the animal was from Russia disappeared , as Finnish law forbids docking dogs' tails in EU countries.
Yet it was the same legislation that nearly condemned the furry intruder to death. According to the law, all animals without necessary vaccination are to be put to sleep within two weeks.
"We saw that the dog was domestic, but couldn't tell whether she had been given a rabies shot," Sampo Vaisanen added.
Thus began a race against time for the small spaniel, which the Finnish border guards named Ruska ("Russian" in Finnish). There was hope that the owners would come looking for their pet, but no one arrived after a week had passed.
The dog, meanwhile, was transferred to the local kennel, leaving a great impression on owner Maya Ahola and all her relatives.
"She was so gentle, so smart, went to the toilet only outside. She slept on my stomach! We all loved her. I, my husband and our children, and even our six dogs! At first they were suspicious about her, but Ruska was so affable and so playful. She was like a little kid," Maya Ahola said.
Maya wanted to keep the dog for herself, but in order to do so Ruska had to be returned to Russia, vaccinated, and then quarantined for half a year.
In order to save the animal's life, Finnish customs officers contacted their colleagues in Russia.
"We were told that a spaniel was found by the Finns and if an old or a new owner isn't found she will be exterminated," Sergey Bukashkin, a Russian officer at Salla, said. "So we contacted the press."
Dog lovers from all across Russia attentively followed the Ruska case. A lot of them wanted to help, but not many could do so as the Salla checkpoint is situated in a remote district of the Murmansk region some one thousand kilometers away from St. Petersburg.
Several web forums started a countdown, indicating how many days were left for the poor animal.
Yet a miraculous rescue came when the tragedy seemed inevitable. Just hours before the lethal injection, a new owner for Ruska was found and the dog returned to Russian soil.
The saviors didn't want his name to be mentioned to "avoid unnecessary fuss", but Izvestia newspaper assures its readers that the dog is now in good hands.
You can share this story on social media: