Tel Aviv car explodes in attempt to assassinate crime boss, 7 injured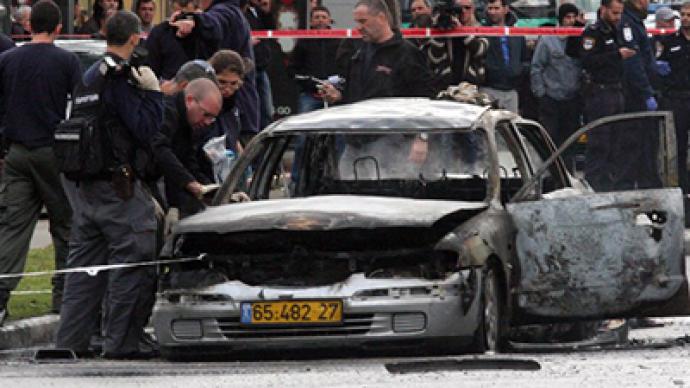 A car bomb has exploded in central Tel Aviv. The blast occurred alongside a bus near the Israeli Defense Ministry, injuring at least seven people. Police suspect it was an attempt to kill an alleged criminal kingpin.
The blast, which was detonated by a nearby motorcyclist, was an attempt to assassinate crime ring leader Nissim Alperon, Haaretz reports."Apparently it is a criminal incident, a settling of accounts," police spokesman Micky Rosenfeld told AFP.Police have reportedly caught the motorcyclist which they believe is responsible for the bomb.The black Mazda burst into flames immediately after the blast. Most of the casualties are being treated on the spot, although several people have reportedly been taken to hospital. Rescue forces are currently at the scene.If the blast was indeed an assassination attempt, it will have been the eighth attempt targeting Alperon over the last 12 years.A bomb exploded in Alperon's Toyota SUV last June, sending it up in flames. Alperon was not wounded in the blast, but the bomb injured his 70-year-old associate.
You can share this story on social media: