At least 41 dead in Afghan suicide attack during Eid prayers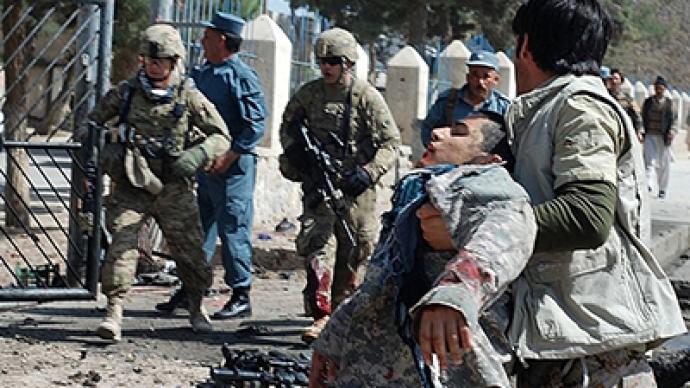 At least 41 people were killed and 50 more injured after a suicide bomber attacked a mosque in Afghanistan's northern city of Maymana, local officials reported. Worshipers had gathered at the mosque to celebrate the Eid al-Adha Islamic holiday.
"Our latest death toll shows 41 deaths, and that might rise," Deputy provincial governor Abdul Satar Barez told AFP, adding that five children were among the dead. The bomber was reportedly wearing a police uniform when he detonated his explosives in front of the Mosque.Local authorities said that there were several police officers amoung the dead. The provincial governor and police chief were in attendance at the prayer service, and were reportedly nearly killed."There was blood and dead bodies everywhere,'' Khaled, a doctor in the mosque at the time of the attack told AFP. "It was a massacre." The bombing comes after Afghan President Hamid Karzai appealed to insurgents to stop "the destruction of our mosques, hospitals and schools."In hi Eid message, Karzai urged the Taliban "to stop killing other Afghans."­The Taliban's leader, Mullah Mohammad Omar called on his followers on Wednesday to "pay full attention to the prevention of civilian casualties." Insurgent attacks are far less frequent in northern Afghanistan, compared to the country's troubled southern regions. The last such incident in the north was in April of this year, when a suicide bomber on a motorcycle attacked a meeting of officials at a food market in Maymana, killing ten people.Insurgent killings have been on the rise in Afghanistan as alliance troops prepare to withdrawal in 2014. Though the US-led coalition is currently in the process of handing over security responsibilities to Afghan forces, there are mounting concerns that Karzai's government will be unable to cope with insurgent violence after foreign troops pull out.