Bomb targets Assad forces, 27 killed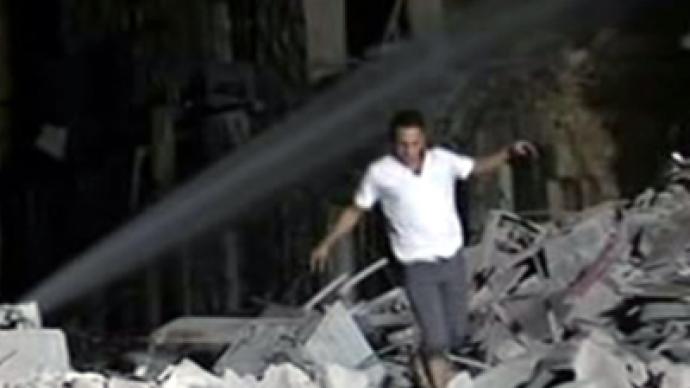 A bomb rocked the flashpoint Syrian city of Aleppo on Sunday, killing up to 27 people and leaving dozens wounded. A rebel group claimed responsibly for the attack, saying it was targeting government troops.
The state-run SANA news agency reported that a "terrorist bombing" hit al-Malab neighborhood in Aleppo, killing 27 civilians and injuring 64. The attack took place near the local al-Hayat Hospital, according to the regional governor.The bombing targeted makeshift barracks and military police headquarters, Reuters news agency says citing residents and opposition activists. A rebel group has claimed responsibility for the attack. The Noble Aleppo brigade of the Free Syrian Army said in a statement it has behind the bombing which injured over 100 government troops. It added the bombs were planted inside the buildings in cooperation with a loyalist sympathizer.The attack in Aleppo comes after a Jordanian militant leader, linked to al-Qaida, warned that his extremist group will launch "deadly attacks" in neighboring Syria to oust Bashar Assad. Mohammad al-Shalabi, better known as Abu Sayyaf, said addressing the Syrian leader "our fighters are coming to get you."The northern city of Aleppo has become the main battleground of Syria's civil war due to its strategic importance and proximity to Turkey, which backed the anti-Assad uprising.As the violence shows no signs of abating, Al-Qaeda-style suicide bombs have become increasingly common across Syria, with many of rebel fighters reported to have come from abroad.Around half of the rebel fighters in Syria are foreign Islamists who aren't interested in toppling the Assad regime. Instead, they're seeking to implement Sharia law throughout the country, said the co-founder of the medical charity Doctors Without Borders, Jacques Beres who treated Syrian rebels in Aleppo."It's really something strange to see. They are directly saying that they aren't interested in Bashar Assad's fall, but are thinking about how to take power afterward and set up an Islamic state with Sharia law to become part of the world Emirate," the French doctor told Reuters.
You can share this story on social media: