Blood transfusions in Russia continue through New Year break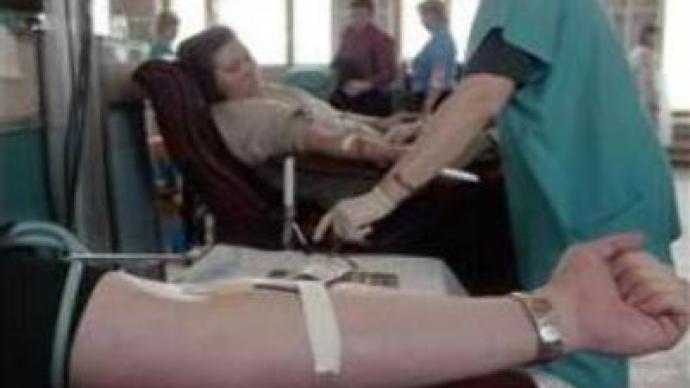 While millions of Russians are still on holidays, the demand for blood transfusions has not declined. Even though measures have been taken to attract more blood donors, the European level still has not been reached.
A number of dedicated Moscow donors have spent time over the festive season at the city's blood transfusion clinics.
"I think it's important. Accidents happen, and blood is always in high demand,"
one of them said. The Moscow blood transfusion clinic is the largest in Russia. It's capable of accepting over a hundred donors a day. All samples are tested for HIV and hepatitis. Information about each patient is stored in a city-wide computer database. The clinic supplies blood and plasma to all Moscow hospitals. In Russia only 15 out 1000 people donate blood. The doctors say there has to be at least four times as many to reach European levels. Most donors get paid: from $US25 to $US 60 for an average session. However, Sergey Oprishenko, the clinic's Deputy Chief Doctor, points out even that is not enough to convince more people to donate blood.
'We need a serious government programme to promote healthy living. As for our own efforts, in December we asked Moscow's medical students to help us in attracting more donors. And it worked; we found that this was a successful effort. We are hoping to continue this work in 2007,"
he said. During the holidays, the clinic's blood bank has been working at its full capacity. Even though there were no regular operations in the city's hospitals, the demand for blood remains high due to accidents. Doctors say supply will be back to normal once the holiday season comes to an end.
You can share this story on social media: