'Blockupy' protest hits Frankfurt: LIVE UPDATES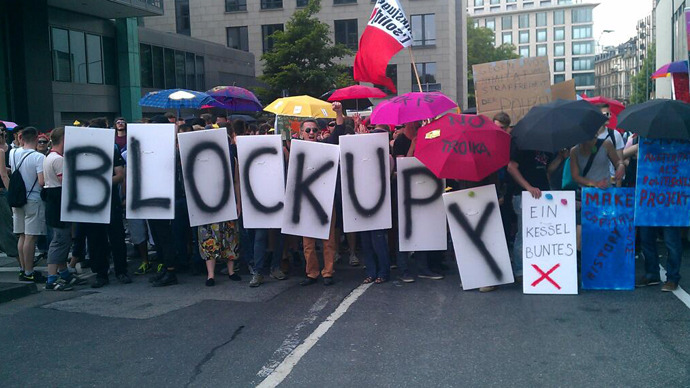 Thousands of activists in Frankfurt, many holding colored umbrellas, prepare for a march as part of a 'Blockupy' protest against police violence. The march comes a week after a violent police crackdown on 'Blockupy' anti-austerity rally.
13:53 GMT:  The rally arrives at the ECB.
People in front of #ECB. Feels like #OccupyFrankfurt in the first days :) #Sündenblock#Blockupytwitpic.com/cw18rx

— Occupy:Frankfurt (@OccupyFrankfurt) June 8, 2013
13:35 GMT: The demonstrators mark scarce police presence at the ECB, the focal point of previous week's clashes. "Police have mostly cleared off the streets," witnesses tweet.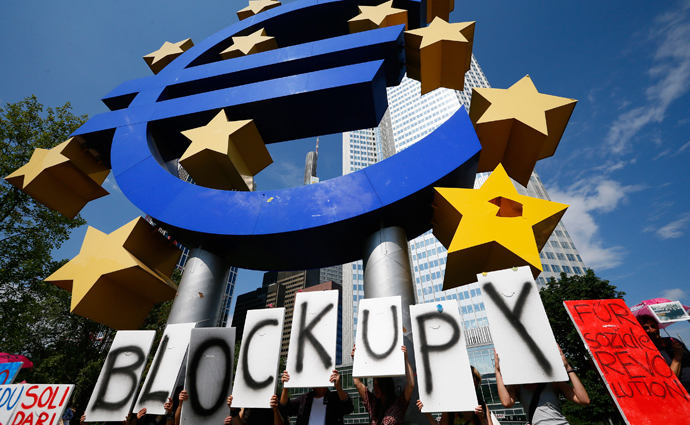 13:27 GMT: The protest is now moving to its final point - the European Central Bank - after a short break with speakers in front of the old Opera. The protest is so far peaceful with many taking a plunge in fountains as it's quite a hot Saturday in the city.
13:17 GMT:
RT @notroika: #blockupy#notroika bei alte oper twitter.com/NoTroika/statu…

— Blockupy (@Blockupy) June 8, 2013
13:00 GMT: The march reaches peacefully St. Paul's Church, where participants are being addressed by the protest organizers slamming the troika of creditors: the European Commission, the International Monetary Fund, and the European Central Bank. The rally blames them for harsh austerity sweeping through Europe. 'No to troika!" the rally chants.

12:51 GMT: Police estimate 7,500 are taking part in the event, while organizers claim there were 20,000 attendees.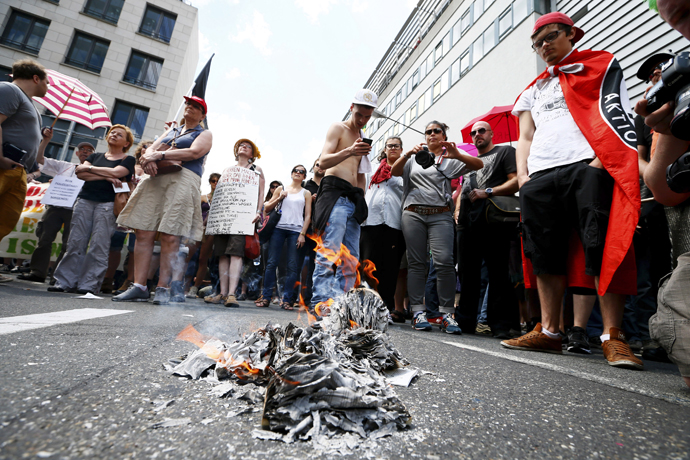 12:15 GMT: Demonstrators in Frankfurt say their march is also in solidarity with Turkish protesters who have recently suffered police violence.
#blockupy#Sündenblock demo #Frankfurt pic of symbolic #blackbloc with pics from Frankfurt & #Turkey#occupygezi twitter.com/enough14/statu…

— Enough is Enough! (@enough14) June 8, 2013
12:00 GMT: An open letter condemning the violent police crackdown on demonstrators on June 1 was published by the New Germany daily. The letter was signed by German political scientists, historians and social scientists, saying they were "extremely concerned about the actions of the police," which should have been protecting protesters, not hindering them.

11:40 GMT: Organizers claim 8,000 are participating in the Frankfurt 'Blockupy' march. A witness tweet shows police officers in front of the ECB, saying they only laughed when asked about violence.

11:15 GMT: Protesters see their umbrellas as a symbol of defiance against the police, which opposes umbrellas at demonstrations.

#Blockupy#Sündenblock demo #Frankfurt Hundreds of umbrellas here. Cops called umbrellas last week objects to disguise.

— Enough is Enough! (@enough14) June 8, 2013
Demonstrators are also carrying banners with photos from the previous Blockupy protest showing police violence.
This is what democracy looks like #Blockupy twitter.com/kaifuzius/stat…

— Kai Möller / cheGGo(@kaifuzius) June 8, 2013
11:00 GMT: The 'Blockupy' march kicks off in Frankfurt. At least 3,000 were expected to attend the protest. Witnesses' estimates on the number of participants vary from 1,000 to 5,000. 
#Blockupy#Sündenblock#Frankurt Several 1000 people started demo against police violence in Frankfurt & #Turkey twitter.com/enough14/statu…

— Enough is Enough! (@enough14) June 8, 2013
Last Saturday, German police used pepper spray and batons against thousands of 'Blockupy' demonstrators as they marched in Frankfurt to protest austerity in Europe. Police then halted marchers after had walked only 500 meters, leaving them unable to reach one of their major targets: The ECB building, which they had blocked the day before.

The police later said they were attacked by small groups of protesters, who provoked them into using force and pepper spray.