Blasts in Turkmenistan: reports claim numerous casualties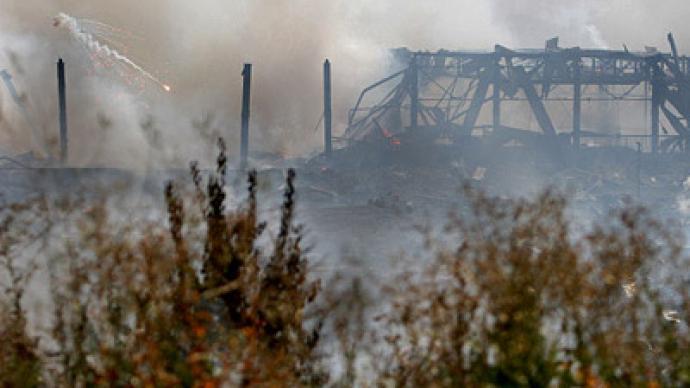 Witnesses say massive explosions in the Turkmen city of Abadan have resulted in casualties, despite the government stating that nobody was injured in the blasts that reportedly left half of the city's population without electricity, gas and water.
A government statement says there was an accident on Thursday at a fireworks materials storage facility caused by exceptionally hot weather. Temperatures reached as high as 45 degrees Celsius in the region. The government said that no one has been injured and the scope of damage was mild.But local media sources claim the situation is far more serious, and that the explosions happened in a military depot, where a lot of ammunition is stored, including artillery shells and rockets. Witnesses are reporting seeing fires in the city, bodies and injured people."The cause of the explosions are still unknown," Farid Tukhabatullin, an editor at the Chronicles of Turkmenistan human rights website, told RT. "Many are blaming the heat for them, but it's unlikely, because hot weather is common here. So far, two ammunition depots exploded, but not all the fire was put out, and there are fears that other explosions could take place at a third depot nearby.""There were reports saying that it was not the ammunition that caught on fire, but the fireworks depot," he added. "But there are photos circulating in social networks proving that it was in fact ammunition."According to the latest figures from Turkmen human rights activists, the death toll in Abadan from exploding shells may be close to 200, the Interfax news agency reported."According to those who collected the data, about 100 are soldiers, while the others are civilians, including children," the human rights website Chronicles of Turkmenistan reported.Reports also say Abadan residents are being evacuated from the area. Also, a hydropower plant located nearby allegedly had to be shut down resulting in a blackout in some parts of the country. Following an emergency cabinet session chaired by the president, military and emergency vehicles have been dispatched to the scene from the capital Ashkhabad, which is located some 18km from Abadan.There is still little official information on what has happened.
You can share this story on social media: