Tough cut: UK school fires dinner lady for accidentally serving non-Halal meal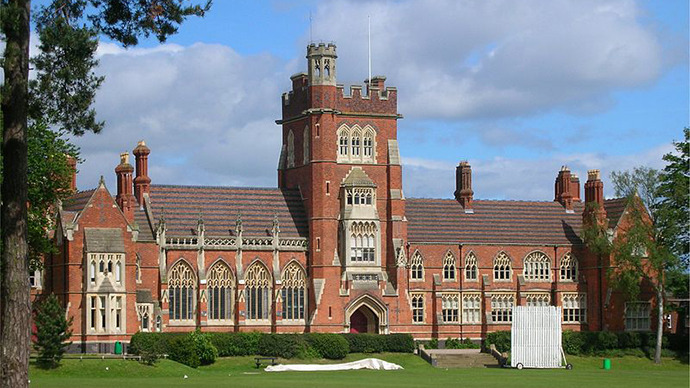 Birmingham City Council has apologized and a dinner lady has been sacked after an investigation confirmed that non-Halal meat was served to Muslims on a single occasion at one school. This is the latest chapter of the Halal Wars in UK schools.
The investigation was launched after it was discovered that on December 12 last year, meat not prepared in accordance with Muslim customs, was dished out at the 1,400-pupil state-run Moseley School, where normally only Halal meat is served.
"We of course apologise for any concerns this has caused," said a Thursday statement from the City Council, which provides catering for the school.
"We do have robust procedures in place and the caterer successfully provides thousands of meals daily to schools."
Despite discovering that the error was "unintentional" during a disciplinary hearing earlier this month, a member of the school catering staff has lost her job.
Still, some parents remain dissatisfied.
"I was shocked - they have failed the children. How did this meal get into the school system to be fed to the children?" said one Muslim parent to the Birmingham Mail.
"It's just shocking that dietary requirements haven't been met."
Halal means "permissible" in Arabic, and to comply animals must be killed by having their throat slit, as Allah's name is pronounced, then hung upside down to let the blood drain out. The Koran does allow Muslims to eat non-Halal meat, if it is done unwittingly, or when there is no choice.
Nonetheless, to stave off further fury from believers, Direct Services, the caterer used by the Labour-dominated City Council, will fully retrain all its staff and introduce a special double-checking system for all of its Halal meat customers.
Direct Services will also stage an Open Day at the school, where it will let disgruntled parents sample its food and ask questions about its safety procedures.
Ninety percent of Moseley School pupils come from more than 30 different ethnic minorities, not all of them Muslim. Many of the students do not speak English as their primary language at home, and a 2011 Ofsted report called the school "inadequate", saying that class attendance rates were "stubbornly low". Last year's report upgraded the school's performance assessment to "satisfactory".
Halal meat has been introduced into the school system in the UK on a council-by-council basis and where it is, controversy often ensues.
In the London boroughs of Harrow and Tower Hamlets, all state secondary schools serve Halal-only meals. Meanwhile, the vast majority of them no longer offer pork in any of their meals.
Last November Lancashire Country Council became embroiled in a theological dispute with the Lancashire Council of Mosques over whether school meals made from animals who had been stunned before slaughter were Halal. Some Islamic scholars insist that animals cannot be stunned before they are killed, although that is the accepted practice in the UK, and called for a Muslim boycott of all school meals in the country.
Also last autumn, one primary school in Hartlepool, in northern England, abandoned plans to serve Halal-only meals after parents protested that only 10 percent of the school population was Muslim and that the new ritualistically-correct menu was introduced without consultation.
Professor Bill Reilly, a former president of the British Veterinary Association, has claimed that 25 percent of all animals are slaughtered according to Halal methods in Britain, though no precise statistics exist, and a law proposing compulsory labeling was rejected by MPs last year.

You can share this story on social media: