Biohacking: harmless hobby or global threat?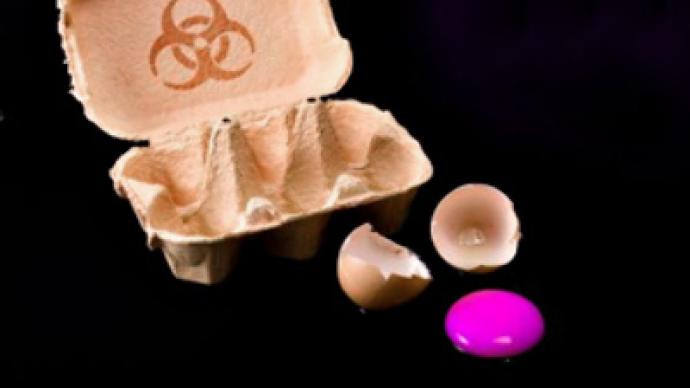 Security officials in the US are increasingly concerned about so-called "biohacking" – a recent phenomenon where amateur scientists grow bacteria and viruses to carry out home-based genetic experiments.
Newspapers tell stories of such amateur researchers who represent a growing strain of geekdom known as "biohacking," in which science enthusiasts build the molecules of life in the comfort of their own homes. Many of them buy DNA online, before experimenting with it in the hope of curing diseases or finding new biofuels, The Wall Street Journal reports.
But do biohackers represent any threat to society?
In Massachusetts, Katherine Aull, a young woman, makes genetically modified E.coli bacteria in a closet she converted into a home lab. Phil Holtzman – a part-time DJ in Berkeley, California – works in his attic to cultivate viruses extracted from sewage. In Seattle, a 32-year-old aerospace employee, Dan Heidel, wants to breed algae in a personal biology lab.
You can do it!
However, some are predicting that years from now amateur genetic engineering and other forms of "biohacking" may become a fully fledged global phenomenon.
This video, similar to many others available online, demonstrates the ease with which such hobbyists try to reproduce complex laboratory techniques, including the DNA extraction and gel-electrophoresis, using simple tools and materials.
Jellyfish yogurt
Thirty-one-year-old Meredith Patterson is a former computer programmer and now a "biohacker".
She is attempting to develop yogurt bacteria, genetically altered with the DNA of a fluorescent jellyfish, that would glow green to signal the presence of melamine – the toxic chemical at the centre of the baby formula and pet food scandals in China.
Meredith's laboratory is based in the dining room of her San Francisco apartment. She uses a plastic salad spinner as a centrifuge and Ziploc plastic bags as airtight containers for her samples. But the genetically modified organism she is attempting to create on a budget of less than $500 could provide a breakthrough in food safety.
"I haven't had a huge amount of success so far," said Patterson as quotes by The Canberra Times. "But science is often about failing until you get it right."
Meredith says the electroporator she found recently on eBay for just $150 could speed things up.
"It's actually not that hard. It's a bit like making yoghurt. And if there's material left over from the experiment, I can eat it," she says.
Personal lab-in-a-closet
To equip her lab-in-a-closet, Katherine Aull – a recent Massachusetts Institute of Technology graduate – bought a DNA thermocycler (an appliance for multiplying DNA molecules) on eBay for $59. Her incubator was made by combining a styrofoam box with a heating device meant for an iguana cage.
A few months ago, Katherine talked about her hobby on DIY Bio (Do It Yourself Bio), a Web site frequented by biohackers. Her work was noted in New Scientist magazine.
Shortly after that she got a phone call… The man on the other end of the line said he was a researcher with Monitor 360, a San Francisco company providing "geo-strategic research."
The caller also mentioned he was doing research for the US government and that the agency he represented was "used to thinking about rogue states and threats from that," Aull said. Yet he declined to name his client.
The caller asked Aull a few polite yet pointed questions: How did she build her lab? Did she know other people creating new life forms at home?
Fears and solutions
In 2007, a group of researchers and FBI officials published an article in Nature Biotechnology, calling for better oversight of synthetic DNA, which is widely used by professional biologists.
The authors emphasized that the use of such DNA by uncontrolled hobbyists could theoretically lead to the creation of harmful viruses like Ebola or smallpox, since information about the structure of their genomes is available online.
"Current government oversight of the DNA-synthesis industry falls short of addressing this unfortunate reality," the paper said.
Katherine Aull, in her turn, disagrees, saying the worries are overblown. DIY biologists "are trying to build a slingshot," she says, "and there are people out there talking about, oh, no, what happens if they move on to nuclear weapons?"
Easy access to DNA sequences through the Internet, let alone the range of commercially available synthetic DNA, is at the heart of most concerns.
The National Science Advisory Board for Biosecurity, a government body, recommends that companies selling DNA should screen all orders for signs that the buyers might have nefarious intent, The Wall Street Journal reports.
Some biologists insist that anyone wishing to modify DNA in any way should have to get a license first. Current regulations on laboratories are vague, and it is not clear what agency, if any, is responsible.
Still, some professionals prefer not to dramatize the issue. George Church – a professor of genetics at Harvard Medical School – is among them. He agrees that anyone using synthetic DNA should have to have a license, including "garage biologists." But he is not too concerned by the home hobbyists.
"The younger generation need something they feel they can do, in the same sense that my generation was inspired by NASA and home chemistry kits," he said.
Keith Kleiner, in his article for the SingularityHub.com, goes further. He agrees that the ethical repercussions and potential dangers associated with amateur genetic engineering are clearly a concern. But the truth is that the rise of amateur genetic engineering, like any emerging technology, cannot be stopped.
Rather than oppose this movement and push it into the much more dangerous world of the black market, Kleiner says, we need to embrace the movement with sensible regulation and healthy, open debate.
You can share this story on social media: