Biggest ever "I love you" painted with broom on ice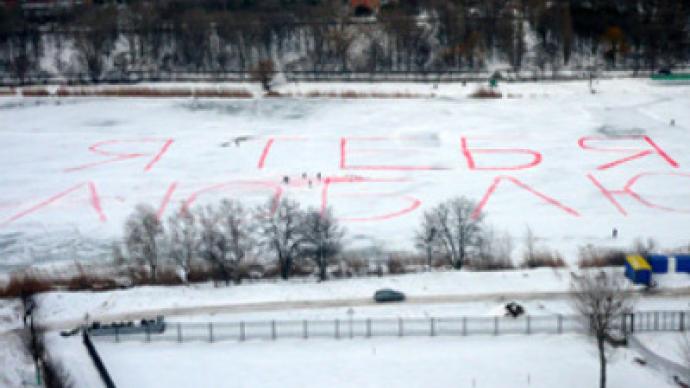 What can be more fascinating than fulfilling a dream? Especially if this dream is writing a love message to your own wife, in giant red letters on ice, and possibly getting into the Guinness Book of Records?
Aleksandr Kartashev from the Russian city of Rostov says his 2.5 kilometer-long "Tanya, I love you" is a gift to his wife Tatyana.
"I was going to turn this idea of mine into reality last year but the weather was bad and I had no assistants," Aleksandr said as quoted by Komsomolskaya Pravda daily. "And this time I was lucky – it was not cold and the ice was about 20 cm thick. And more than 25 volunteers were helping me – I wouldn't have managed to write the biggest love message in the world by myself. I thanked them with hot tea."
It took them two kilos of red food dye to paint the message on ice with brooms. The height of the capital "T" letter is 230 meters and the width is 170 meters.
The total length of the lines which form the message is 2.5 kilometers, and the length of the phrase is 830 meters.
Aleksandr's wife Tatyana said that she is delighted, and is also planning a surprise for him for the forthcoming Valentine's Day.
You can share this story on social media: