Biden gets mixed reception in Belgrade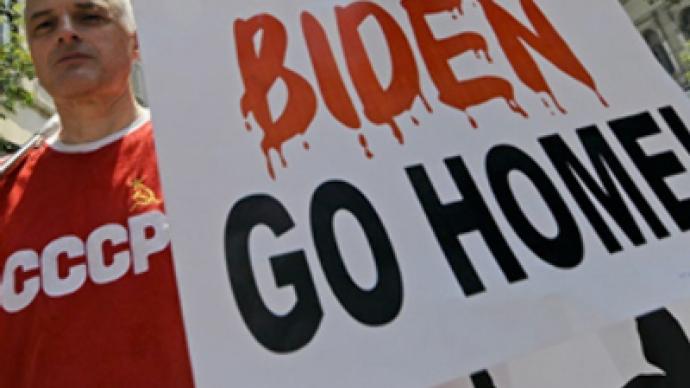 US Vice President Joe Biden arrived in Serbia on Wednesday to try to improve relations with this Balkan country. Unlike the Serbian President, some MPs preferred to "greet" him in a different manner.
Unlike the Serbian President, who rolled out the red carpet for Biden, some parliamentarians preferred to "greet" him in a different manner.
Joe Biden's trip to Serbia is a part of a three-day tour of the Balkans meant to demonstrate the renewed interest of the United States in the region, AP reports. He said his trip to the Serbian capital Belgrade, where he arrived from Bosnia, is aimed at establishing "healthy" relations between the Obama administration and Serbia's authorities.
However, the country's nationalist parties have opposed Biden's visit, saying it amounts to a "humiliation" of the country.
According to AFP, members of Serbia's nationalist Radical Party, which holds approximately 20 percent of the seats in the Parliament, met Joe Biden in Belgrade with banners saying "Biden, you Nazi scum go home!" and "Biden, you Fascist scum go home!" The MPs were holding them during the live transmission from the meeting.
Apart from that, all nationalist members of the parliament were wearing t-shirts depicting a portrait of the head of their party, Vojislav Seselj, who was incriminated by the Hague Tribunal for war crimes.
Members of the party accuse Biden of being the chief advocate of the 1999 bombing of Kosovo, the predominantly ethnic Albanian-populated region considered by Serbs the medieval cradle of their statehood and religion, the AP reports.
Serbian officials, backed by Russia in the UN Security Council, have repeatedly said they would never recognize Kosovo's statehood, and that they would try to retain the province by peaceful, diplomatic means.
The US Vice President, however, is known to be a staunch supporter of Kosovo's independence. From 1997, he has been actively participating in the Senate's foreign policy, and was one of the architechts of the NATO bombings of Serbian territory in 1999.
Kosovo is going to be Biden's last stop on his Balkan tour on Thursday.
You can share this story on social media: