'Bias, double standards': Moscow bewildered by UN aide's remarks on Ukraine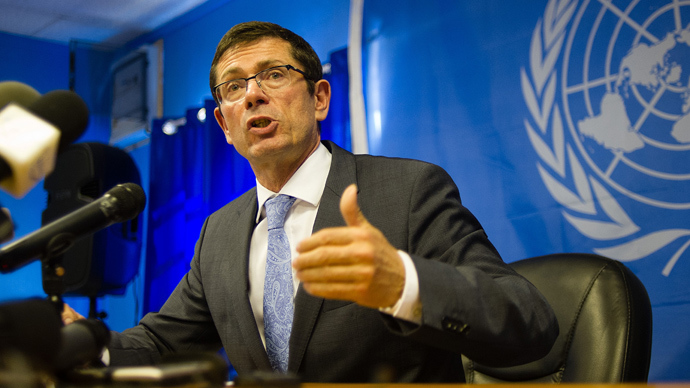 Russia's Foreign Ministry described remarks on the situation in Ukraine, made by UN Assistant Secretary-General for Human Rights Ivan Simonovic as "biased" and accused the official of double standards.
"We are bewildered and cannot conceive the biased, prejudiced and nonobjective assessment by Simonovic of the human rights situation in this country [Ukraine]," reads statement issued by the ministry on Monday.

Russian diplomats were indignant with the fact that the UN aide "only softly admonished a little group of politicians [in Kiev] for kindling hatred", while at the same time expressed much graver concern with human rights situation in Crimea.

"The high-ranking UN official preferred not to notice killings, mass reprisals, torture, kidnappings, attacks on journalists and human rights advocates, arrests for political motives, blatant outbreaks of obviously racist - including anti-Russian and anti-Semitic - nature, which happen either on orders or with silent consent of the people who seized power in Kiev," the Foreign Ministry said.
On Friday Simonovic announced the immediate deployment of a UN monitoring team throughout crisis-torn Ukraine to help establish the facts surrounding alleged human rights violations, including in Crimea. Assessing the situation on the peninsula he said his team had access to "several reliable sources and extensive one-on-one discussions with individuals who are in and from Crimea."
"I am gravely concerned about the situation in Crimea, where there appears to be no rule of law at present, and therefore a drastic deterioration in the protection of human rights, as well as rampant fear and insecurity due to misinformation, blocking of information and total uncertainty about what is coming next," he said.
Moscow has described Simonovic's remarks on Crimea as dictated by "fake concern".
"We would like to remind Mr. Simonovic not only of the guarantees, which the Republic's authorities are giving and will give in the future to the Crimean Tatar minority, but also of the fact that Crimea is currently likely the only place that maintained law and order."
The Russian Foreign Ministry believes Simonovic discredited the UN Secretariat, having put to doubt its neutrality, independence and good conscience.
On Monday Russian President Vladimir Putin signed a decree recognizing Crimea as a sovereign and independent state. The Autonomous Republic of Crimea held a referendum on Sunday with over 96 percent voting for integration into Russia.
You can share this story on social media: