Beslan bell tolls for 186 children and 148 adults massacred in 2004 terror act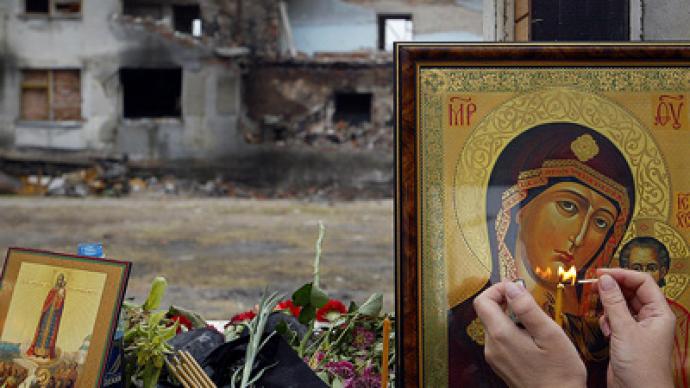 Three-hundred and thirty-four candles have been lit at the ruins of a school in Beslan in Russia's south. Each candle marks a victim of a 2004 terror act where militants held scores of kids hostage for three days. Russia is commemorating the tragedy.
Over a thousand people were taken hostage in Beslan's secondary school on September 1, 2004. For over fifty hours, the hostages were held at gunpoint and denied water, food or medical help. On September 3, the disaster was finally brought to an end – apart from the fact that families were still to learn who died and who survived. Eight years after the blood-chilling events in the town in North Ossetia, a republic in Russia's south, the pain is to yet subside. As hundreds of people stream to the ruins of the school, many cannot suppress violent sobs. In the town, with a population of just over 35,000, there is hardly a single family who was unaffected by the tragedy."The wounds are still bleeding," Viktor Yesiyev told Regnum news agency. "Right on the first day of the terrorists' assault, my son was shot dead. Two of my granddaughters were also taken hostage and were injured when security forces began their counter-operation. They had to take a long treatment in Moscow hospitals. Their mom was injured as well. We still cannot understand how this could happen to a peaceful town like Beslan."Thousands of flowers, candles and toys have been taken to the ruins of Secondary School No. 1 since the commemoration ceremony began Saturday. Above all, people bring bottled water to mark the severe thirst the hostages faced. On Sunday, 334 candles were lit in the school yard. They have been burning all night, with light glittering on the photos of the children and adults whose lives were taken in the terror act.Monday, a church service was held at the former school. After a minute of silence, white balloons were set to the skies, one for every victim of the atrocity. The commemoration ceremony then relocated to the City of Angels – a graveyard in Beslan where 266 people killed in the 2004 disaster are buried.
Three days in hell
September 1, 2004, was a regular celebration day at Beslan's Secondary School No. 1: pupils and their parents were attending a ceremony marking the beginning of another school year. But that year's first bell to lessons was to become the symbol of one of the darkest tragedies in modern Russia's history.Over 30 terrorists assaulted the ceremony, capturing 1,128 people as hostages – everyone who failed to flee. Most of them, both kids and their families, were ushered into the school's gym. The gym was then mined.
Reports which are still not fully confirmed say the terrorists demanded Russia's army leave Chechnya, and bargained the country's "security in return for independence" of the southern republic. Shamil Basayev, a prominent Chechen separatist leader at that time, claimed responsibility for the act.Three thirsty, hungry days full of fear followed. Most of the captured people were children, some of them toddlers. Later, the terrorists would claim the hostages went on a hunger strike to support their "liberation movement." Medics, food, water – none was allowed to the scene. Nor did the terrorists permit anyone to recover dead bodies.On September 3, several blasts shook the school, and a fire erupted. Capitalizing on the explosions, the hostages rushed out despite fatigue. The terrorists shot them in their backs.Russia's security forces then began an assault on the besieged school. Twenty-seven terrorists were killed, on top of four who had been killed earlier. The only terrorist captured alive, Nur-Pashi Kulayev, was later sentenced to life in prison.
The chilling three-day affair left 334 people dead: 318 of them were hostages, including 186 children. One of the kids who was killed was an 11-year-old boy who safely escaped the school after the blasts hit, but then returned to help his injured friend.Ten security officers died, as well as 15 policemen and two Emergencies Ministry staffers.Eight-hundred and ten people were wounded. Seventy-two kids and 69 adults are seriously affected to this day by their wounds from the attack. Seventeen children lost both parents.
'It's that good we were kids and didn't realize what was going on'
This year, instead of burnt ruins, hundreds of people have made their way to a solemn memorial. German engineers framed what remained of the gym with golden-colored screens, flowers engraved on them. Local authorities, seeking to preserve the remains of the school, have made the building part of the Beslan Memorial Complex.Inside, walls are covered with pictures of the victims. In some class photos, all the pupils are marked as passed away. Beslan residents light candles, bring fresh flowers – and more bottled water – all year round.
The area around the school is strewn with golden name plates marking spots where security and Emergencies Ministry officers died. The plates were placed Saturday.A memorial stone in the yard stands on the place where lieutenant-colonel Dmitry Razumovsky was killed. When the hostages started running out of the school, he distracted the militants' attention and drew their gunfire so that others could escape.This year, it is also the first time when the kids who were victims of the terror act have come to the scene overpowering their memories."It's good that we were kids and didn't understand what was going on," Vika Kotsoyeva told Rossiyskaya Gazeta. She was six when the terrorists captured her with other kids and adults.The tragedy shook the whole world. Annual commemoration ceremonies have been held not only across Russia, but also in the UK, Germany, Greece, Italy, Israel and other countries. A service was held in Paris prompted by the French association "Solidarite Enfants de Beslan."
You can share this story on social media: