Italy appeals court sentences ex-PM Silvio Berlusconi to 4 years in jail over tax fraud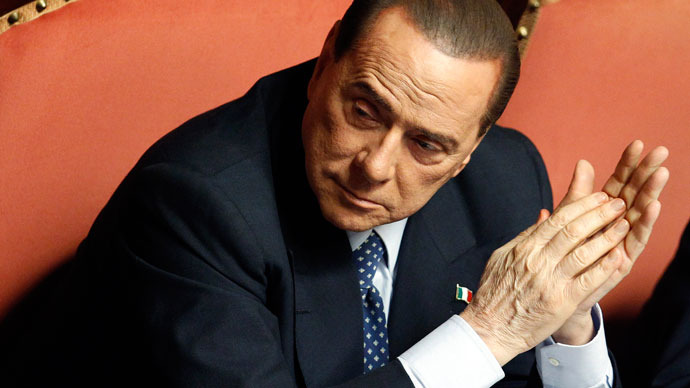 Italy appeals court has upheld the tax fraud conviction against former PM Silvio Berlusconi sentencing him to four years in prison.
"The court confirms the sentence against Silvio Berlusconi," said a judge at the Milan court, news channel Sky TG 24 reported.
Last October, the court convicted Berlusconi of tax fraud involving inflating the price his Mediaset media empire paid for TV rights to US movies. The former PM denied the charges claiming that he was a victim of politically motivated prosecution and had appealed to reverse the four year sentence handed down in October.
Though the verdict was upheld by the appeals court in Milan, Berlusconi may appeal this verdict to a higher court, the Court of Cassation. He will not face the prospect of jail unless he loses both of the appeals.
If the conviction is upheld on two levels the former leader will also be denied public office for five years or management of any company for three years, according to the lower court which began hearing the case in 2006.
The conviction of tax fraud was the first for the 76-year-old media mogul, though he faces another trial.
Presently, Berlusconi is facing a separate trial on charges of paying a 17-year-old Moroccan girl for sex during his notorious "bunga bunga" parties and using his status as prime minister to cover it up. The former leader denies all charges. The next hearing in his sex scandal is scheduled for May 13.
Earlier this year Berlusconi appealed to move these two trials out of Milan where according to his lawyers  he cannot get a fair trial as prosecutors and judges in the Milan court have "persecuted" the centre-right leader for his conservative politics. Italy's top appeals judges rejected the requests on Monday.
In March, Berlusconi was sentenced to one year in jail in connection to the publication by his family's newspaper of a leaked wiretap pertaining to a banking scandal in 2006.  Though according to the Italian laws people aged over 75 and with sentences of less than two years are not obliged to go to jail.
This came amid the political uncertainty of the Italian election which left no party able to form a government on its own. Berlusconi participated in the election and his right-left formation emerged as the second strongest in parliament. However, the media mogul is not a member of the current government.