­Berezovsky court saga: Oligarch sued by ex-lover demanding millions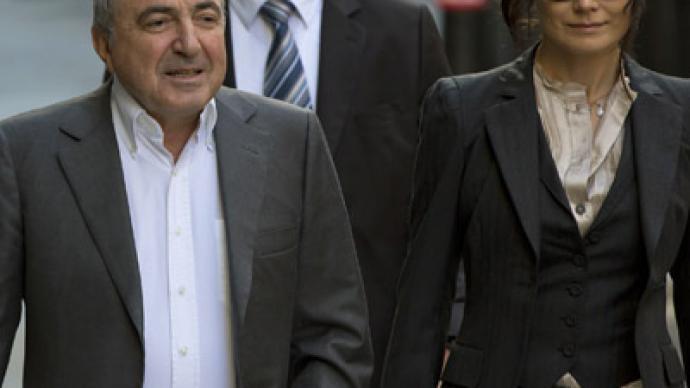 Exiled Russian tycoon Boris Berezovsky faces just another lawsuit - his ex-lover demands almost US$8 million compensation. The UK court ordered to freeze oligarch's assets, worth millions, in order to make the payment if he loses the case.
Elena Gorbunova, Berezovsky`s partner of 20 years and the mother of two of his children, who broke up with the tycoon last year, claims he owes her one fifth of the money he received after selling his home in Surrey. The house was estimated at 25 million pounds (some $40 million). She also says her ex-partner is trying to sell two properties in the South of France which he promised to her.Gorbunova, who is in her early 40s, filed the case in 2012, but it was held privately up until now when the press urged the judge to make the hearings public.According to the ruling made by Judge George Mann on January 18 and released on Wednesday, Gorbunova won an asset-freeze of Berezovsky`s luxury properties in France. The initial figure was 200 million pounds, but it was reported that the judge reduced the sum. "On the evidence, Mr. Berezovsky is a man under financial pressure. It is likely he will feel a more pressing need to satisfy creditors than satisfy Ms. Gorbunova," Judge Mann said, adding that she is "fearful that she will not receive the proceeds of any such sale because Mr. Berezovsky needs the money for himself."Gorbunova is not the first woman seeking a substantial compensation for her years with the notorious Russian tycoon.In 2011, his ex-wife Galina Besharova received what became the biggest divorce settlement in the UK – some 100 million pounds (over $150 million).The Russian runaway oligarch`s fortune has significantly decreased in recent years due to the number of scandalous court cases that saw him paying millions of dollars in compensation and  legal expenses.The latter in the series was his court battle with another Russian oligarch and the owner of Chelsea football club, Roman Abramovich. Berezovsky accused Abramovich of using his ties with the Kremlin to make him sell Sibneft, a profitable oil company, at a low price in the 1990s.Berezovsky lost the case in August 2012 and was left with paying bill for legal expenses reportedly reaching 40 million pounds (approximately over $63 million).His lawyers also report that Berezovsky has cumulative debt around 200 million pounds (over $300 million).As of 2012, Forbes estimated Berezovsky's fortune at $700 million. However, the account may have included some assets the oligarch is no longer in procession of.
You can share this story on social media: