Oligarch blues: Berezovsky allegedly broke after legal defeats
Published time: 27 Sep, 2012 11:18
Edited time: 27 Sep, 2012 15:31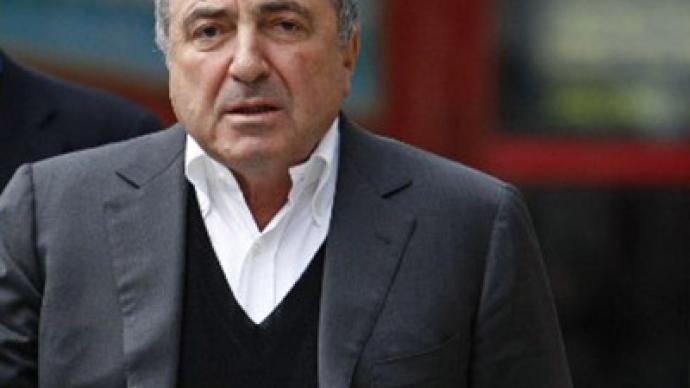 Russia's embattled oligarch Boris Berezovsky is reportedly on the brink of ruin, and is rushing to sell his remaining assets as a number of lawsuits and his extravagant lifestyle has reduced his wealth.
­Last month, Berezovsky spectacularly lost a 5.6 billion dollar claim against former business partner Roman Abramovich. That means he now has to pay the legal costs for everyone involved in the case. The Russian tycoon reportedly faces a 40 million pound bill for legal expenses.
Abramovich's lawyers were the first who suggested that Berezovsky is broke, according to Forbes Russia. The magazine says the oligarch doesn't have the cash to cover the cost of the 5 month trial – one of the most expensive in British history.
Its been reported Berezovsky has had to sell off stock, his Surrey home – and even let go two of his chauffeurs. Meanwhile he also has debts of about 200 million pounds, according to the lawyers. However, not all of his loans are secured as he has already pawned a major part of his property, including his fleet of Rolls Royce and Maybach cars.
Berezovsky still has property in London worth 5 million pounds and the Chateau de la Garoupe estate in the South of France valued at 300 million pounds. But the sale of the property in France is restricted because of the recent lawsuits; Forbes Russia reported citing its sources.
In 2004 the man was a bona-fide billionaire with a $1.3 billion wealth. Where did his money gone? First there was his expensive lifestyle – with an army of servants, lawyers, PR specialists and security guards. His former driver claimed he was paid 100,000 pounds a year. Thousands of pounds went for maintaining his estates and other property.
Then there was his divorce – that reportedly cost him some 200 million pounds.
Political games in the other countries have also put a hole in Berezovsky's pocket as he financed the Orange revolution in Ukraine and the election campaign of his then ally Badri  Partakatsishvili, who ran for President of Georgia.

But the major reason for Berezovsky being broke are the numerous of law suits with former business partners he has been involved in.  
Ironically, his only potential source of revenue seems to be more lawsuits – including one against ex-co-owner of Metalinvest group Vasily Anisimov, Forbes says. If it succeeds Berzovsky could get about $600 million.
The bad news for Berezovsky is that his chances of winning are fading after he lost the battle against Abramovich. During the verdict in London Judge Elizabeth Gloster branded him a "wholly unreliable witness", signaling his reputation was even more damaged than his bank accounts
Now Berezovsky seems to be holding out an olive branch with his opponents. He has already signed a deal with the family of the late Partakatsishvili. According to the terms of the agreement the tycoon would get some assets of the VDP investment fund, which is now up for sale, and $35 million cash from bank accounts, formerly owned by Partatsikshvili and Berezovsky.