'I was firing into Hell': Belgorod shooter kills 6 after 'being insulted in shop'
The 'Belgorod shooter' said his killing spree was provoked by staff in local stores who refused to let him enter, Sergey Pomazun told investigators after his arrest, local media reported. Pomazun killed six, including a 14-year-old girl, on Monday.
Pomazun, 31, went on a shooting rampage on Monday at a local gun store and killed six people – four men aged between 28 and 45 and the 14-year-old girl. Another girl, 16, died later in hospital. He was apprehended after trying to elude a massive Russian-Ukrainian manhunt. The suspect was discovered trying to leave the city by freight train, and injured one police officer with a knife as he resisted arrest.
Pomazun has refused to testify, but held an unofficial conversation with investigators about the incident, LifeNews reported.
On the eve of the deadly rampage, Pomazun reportedly tried to enter one of Belgorod's main supermarkets but was stopped by security guards, who said his appearance was the reason he was turned away. Store staffers reportedly insulted and made fun of Pomazun, who became angry and vowed revenge.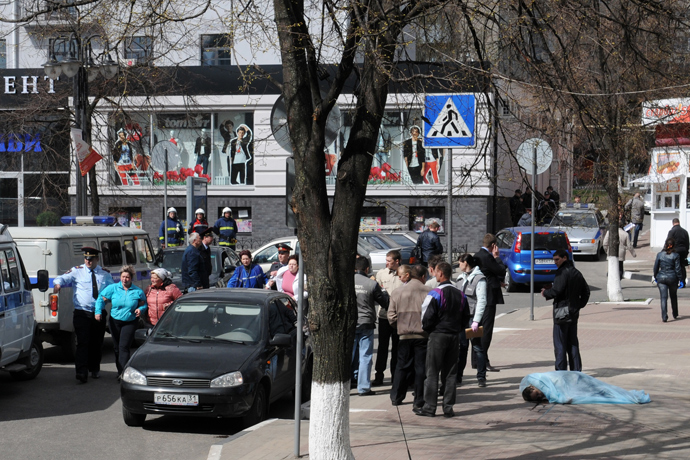 Pomazun went to a nearby gun shop to purchase ammunition, but the staff there refused the sale because Pomazun had a criminal record. He promised to return and kill everyone in the store, but the employees did not take his threats seriously.
An enraged Pomazun then went home, broke into his father's safe, grabbed a hunting rifle, got into his parents' car and went to back to the gun shop. There, he shot three staffers and then exited the store and shot three others who witnessed the incident. Afraid of being seen and caught, Pomazun returned to the car and drove away.
The shooter has denied that he fired at any children: "I didn't shoot at any kids, I was firing into Hell," he claimed after being arrested.
Shooter's erratic behavior
The father of the suspect said that his son was behaving erratically in recent days, and had threatened to kill him. "He went nuts after five years in jail," Aleksander Pomazun told Lifenews.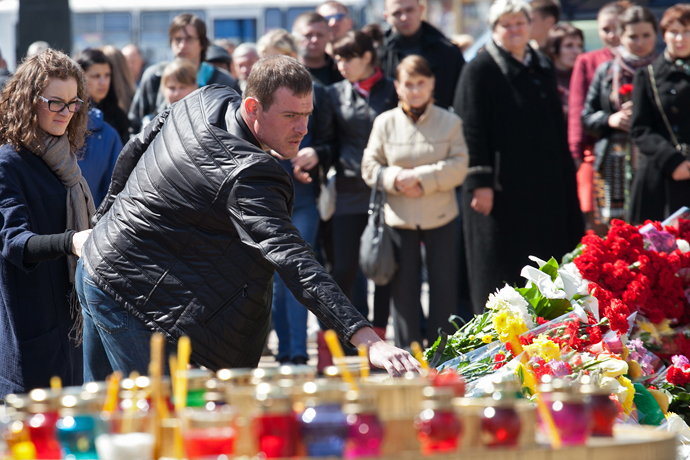 Sergey Pomazun is said to have led a chaotic lifestyle, and would often pay short visits to his parents to ask to borrow money. Unable to pass driving tests, Sergey still drove his parents' car.
"The suspect's father had previously called the police twice about the aggressive behavior of his son," an investigation spokesperson said. "However, no punitive measures were undertaken by law enforcement, they are said to just come and leave asking to inform them in case of a violent action. We will investigate this information and hold those police officers responsible if it is confirmed."
Neighbors confirmed that Sergey was prone to antisocial behavior, saying he was frequently inexplicably aggressive against them. Pomazun was released from prison in December after serving a sentence for theft.
Pomazun is currently in temporary detention at a local police station, and will undergo a psychological and psychiatric examination.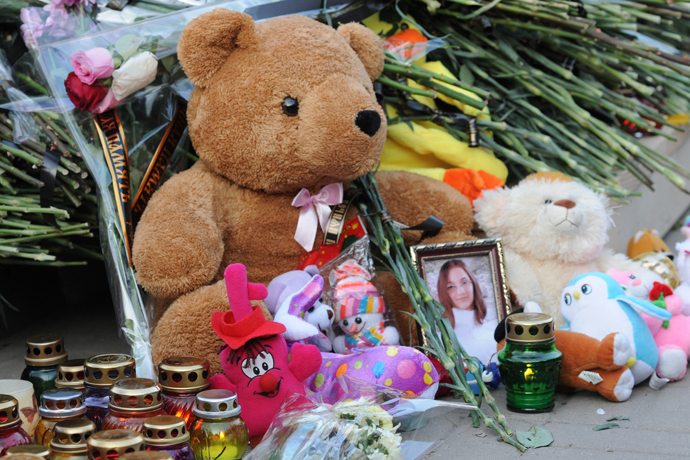 The suspect reportedly acquired his shooting skills in the army, where he served in the Special Forces at a nuclear missile base for two years.
Hundreds of police were involved in the search for the 'Belgorod shooter' that began Monday, with at least 2,000 police and Special Forces involved, and officers from neighboring regions dispatched to join the operation.
Pomazun hid in a nearby swamp during the manhunt. Police spotted the suspect by city's train station. When asked to show his ID, the suspect said he didn't have any with him and used a fake name to identify himself.
During the arrest, Pomazun resisted and used a knife that was covered by a sweater to wound a police officer, who is currently recovering in a local hospital. Police expected that the shooter would be armed with at least an air pistol, but no firing weapons were found on him, and it is unclear where his weapons might be.
A funeral for victims of the tragedy was held on April 24, according to the mayor's office. The city administration agreed to pay the victims' families 1 million rubles, and offered to help with arranging their funerals.