Beirut clashes draw Lebanon into Syria conflict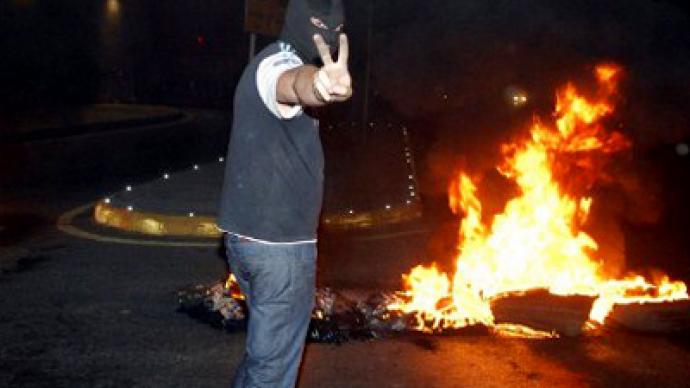 Violence spread to Lebanon's capital after a week of turmoil fueled by clashes between groups at odds over Syria's regime. The suspected presence of Al-Qaeda and anti-Syrian sentiment has raised fears neutral Lebanon will be dragged into conflict.
The clashes occurred mostly during the night in the district of Tareek Al-Jedidah when gunmen from rival groups supporting and opposing the Syrian regime opened fire on each other. Two people were killed and 18 injured in the confrontations.The unrest was triggered on Sunday when Lebanese army troops gunned down Sunni cleric Ahmad Abdel Wahed at a checkpoint in northern Lebanon. Sheik Wahed is a prominent figure in the Syrian opposition movement and was scheduled to take part in an anti-regime rally in the North of Lebanon.Locals blocked of roads and torched tires, in protest of the killing of the Sunni cleric."We will not allow ourselves to be targeted like this," warned Khalid Al Daher, a Sunni MP and member of the anti-Assad opposition in Lebanon. He has accused the Lebanese army of targeting the cleric.Al Daher also appeared on Lebanese television, calling for the fall of the Lebanese government, branding it "a collaborator government for Syria and Iran."Last week at least five people were killed in the northern city of Tripoli during three days of sectarian violence.The Lebanese government has deployed troops in the area to bring the violence under control. The country's PM, Najeeb Miqati has decried the killing and said that an investigation will be launched into the incident. In response to the increasing violence the Kuwaiti Foreign Ministry has told all nationals to leave Lebanon. The UAE, Qatar and Bahrain have also issued travel warnings to their citizens against visiting the country.
Lebanon dragged into conflict
Lebanon has largely managed to remain neutral in the conflict in neighboring Syria, but has been feeling the fallout of the conflict recently. Over the last couple of weeks the country's northern region of Tripoli has seen nearly daily clashes between rival Sunni groups. Many Sunni Muslims in the area advocate opposition uprisings against Syrian President Bashar al-Assad and have accused the Lebanese army of taking orders from Damascus.Lebanon is still recovering from its 13-year civil war and has managed to distance itself from conflicts engulfing its neighboring countries.However, allegations of arms smuggling to the Syrian opposition and the supplying of humanitarian assistance across Lebanon's northern border have caused Damascus to point the finger at its neighbor.President Assad has put pressure on the Lebanese government to deploy the army to control Syrian opposition sympathizers in the north of the country.Political analyst Roula Talj told RT that the violence in the North was "expected," adding that Syrian opposition sympathizers in the region would use the opportunity to create a "free border zone.""In order to create a bridge for Al-Qaeda-related fighters who are coming from all over the world to fight against the Syrian regime. They want to create this free zone in the north between Tripoli and Homs."Roula Talj described the violence in Beirut as a distraction tactic on the part of Syrian sympathizers to detract the attention of the Lebanese army from the north."The killing of the cleric yesterday gave them the reason to start this uprising against the Lebanese army," she stressed.In the coming months she expects radical elements in the North to become more ambitions and more aggressive, pushing for the creation of these "free zones.""They are also trying to create this Sunni-Shia conflict. And they will do their best to portray it as a Shia-Iranian-backed pro-Syrian force trying to kill the Sunnis in Lebanon," she said.Middle East blogger Karl Sharro believes the Lebanese government is largely to blame for allowing the conflict to spill over from neighboring Syria."The uprising in Syria raised many emotions among particularly the Sunni population in the north of Lebanon, which is very close, historically, to Syria," Sharro told RT "Obviously people are keen to support members of their extended families in Syria, but unfortunately, what's making the situation worse is that the Lebanese political leaders from across the political divide haven't managed to come up with a unified position from the Lebanese state towards what's happening in Syria. So I would say, primarily, what we are witnessing here is a result of incompetence among the political class in Lebanon."
You can share this story on social media: