Beijing raises pollution alert to orange for first time as heavy smog blankets capital
Beijing raised its four-tiered smog alert system to 'orange' for the first time on Friday as heavy smog was forecast to roll into the city for the next three days. Officials have urged people to stay indoors and use public transport.
When Beijing's Air Quality Index (AQI) readings went above 300 micrograms per cubic meter on Friday – more than ten times the level considered safe by the World Health Organization (WHO) – the orange warning level was brought into effect.
The category, which is the second-highest after 'red,' advises schools to cancel outside sports classes and states that children and elderly should stay indoors. Residents are also advised to leave their cars at home. The 'orange' alert falls short of ordering schools to close and prohibiting government vehicles from using the roads – those provisions come into force under the red alert.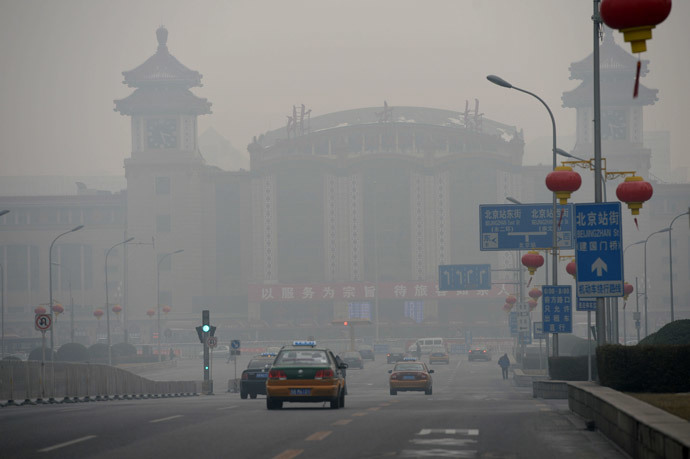 The government also ordered more than 100 factories in Beijing to halt or limit their activities as soon as the orange alert came into force on Friday, Xinhua news agency reported. Thirty-six companies were ordered to stop production, while another 75 were told to reduce it.
AQI measures six airborne pollutants – including PM2.5 particles which have a diameter smaller than 2.5 microns. PM2.5 particles have been a major contributor to the smog that has periodically shrouded much of north and eastern China in recent years.
The tiered system has four levels – using blue, yellow, orange, and red to indicate the air pollution in order of increasing severity – and was introduced last October. An orange alert indicates heavy to serious pollution for three consecutive days, while a red alert indicates the most serious air pollution, also known as level 6, for three days in a row.
The US Environmental Protection Agency considers AQI levels above 300 to be hazardous. Data from the US embassy in Beijing put the levels of PM 2.5 particles at 378 on Friday.
While some residents have welcomed the announcement, others are angry that more is not being done.
"Do the PM2.5 measurements have to explode off the charts before we see a red alert?" said one user of weibo, a Chinese website similar to Twitter.
Public discontent with the official reaction could be clearly seen on Friday, when a Chinese military expert became the object of scorn and ridicule after saying that the smog might be useful in fending off a laser attack by the US military.
Smog has been sitting over Beijing since the middle of last week, though authorities only issued a blue alert last Saturday. China Central Television (CCTV) questioned late last Saturday why the government failed to initiate an appropriate response under such smoggy conditions.
"Their [authorities'] inaction in the face of the heaviest air pollution in a month flies in the face of their own promises and their own credibility," China Daily said in an editorial.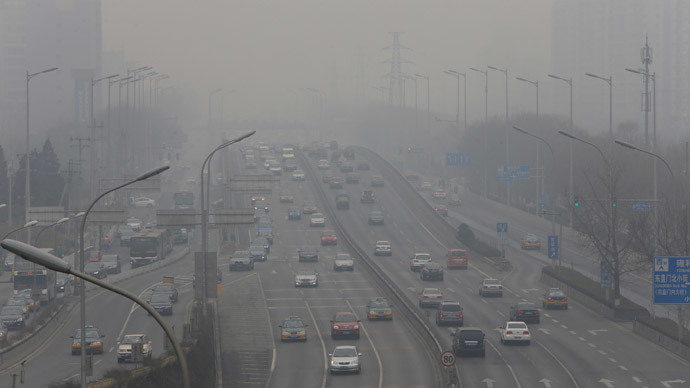 Wang Yuesi, a researcher at the Institute of Atmospheric Physics of the Chinese Academy of Sciences, told Xinhua that orange and red alerts require action by the public and authorities are reluctant to issue them.
"Environmental authorities lacked preparation in responding to smog for both technical reasons and management reasons. All they hope is that continuous smoggy days like this never come," said Wang.
He also cautioned that the issue was not only a problem for Beijing, but also for a much larger region of northern and eastern China - including the surrounding provinces of Hebei, Shandong and Henan.
Many of the guidelines are not as new as the four-tiered system and were introduced after a period of appalling air quality last January when AQI at one point was more than 900; 40 to 45 times above the recommended safety levels.
The Chinese government is keen to be seen as being tough on pollution, after tremendous amounts of growth over the past few decades left much of China's water, air, and soil extremely polluted.
Authorities have in recent years put into action numerous policies to try to clean up the environment, including investing in new non-polluting projects and giving courts the power to enforce stiff penalties – including the death penalty – in the most serious cases.
Since 2008, Beijing has had some success in reducing air pollution. Particulate matter 10 readings have steadily fallen but PM2.5 – which is far more dangerous and originates from car exhaust fumes – has shot up as car ownership increases in the capital.
But enforcement is patchy; particularly at the local level, where authorities rely on taxes from polluting industries.
You can share this story on social media: