'My Russia is a beggar': Beauty queen defies stereotype with political speech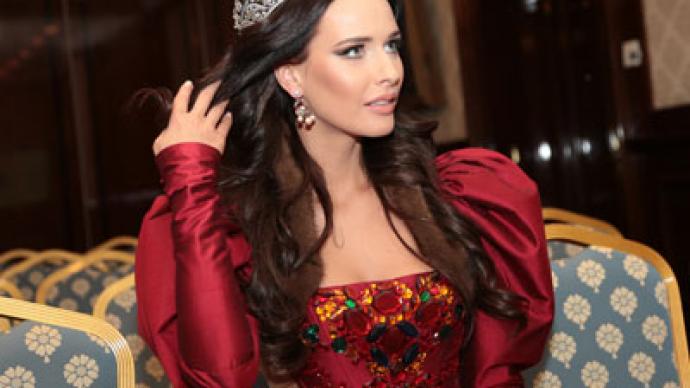 The judges at Miss Earth must have been puzzled as a contestant from Russia brought up the problems of corruption, poverty and nationalism while giving a speech. But Russia's web community has met her words with cheers.
Natalia Pereverzeva , 24, who is representing Russia at the Miss Earth beauty pageant this year, is apparently in favour of political activism, which she demonstrated answering a standard contest question, "What makes you proud of your country and what can you promote about it?"Starting her answer with colourful metaphors describing her motherland she was quick to switch to less pleasant things. "My Russia – it is also my poor long, suffering country, mercilessly torn to pieces by greedy, dishonest, unbelieving people," the beauty said. "My Russia – it is a great artery, from which the "chosen" few people drain away its wealth."She continued by addressing the problem of poverty and social insecurity."My Russia is a beggar. My Russia cannot help her elderly and orphans. From it, bleeding, as from a sinking ship, engineers, doctors, teachers flee, because they have nothing to live on."Pereverzeva's speech continued to reject the usual anodyne fair of beauty contest as she touched upon issues of nationalism in Russia, expressing her bewilderment at the fact that it could exist in the country that overthrew fascism. The beauty contestant ended her revealing speech by urging the Russian people to become activists and "to seriously begin to take care of our country" so "it will blossom and shine brightly."The speech immediately went viral with some accusing her of stereotypical and simplistic vision of Russia and others expressing gratitude and support for what she said."Thank God, there are people in Russia, who we can be proud of, and for whom we should try to improve the situation," read one of the comments to Pereverzeva's speech on Facebook. "Undoubtedly, well said, Natasha. She is not just beautiful, but smart and brave," read another comment.But not everyone was so cheerful, as many saw a PR machine behind the patriotic passion of the Russian beauty."Don't be deceived or even delighted! These words were written for the show and learnt by heart long prior to it. This is a show and her goal is to attract the attention of the audience. It is known that controversy is the best way to do it," wrote one of the skeptics. But Pereverzeva`s managers claim they were completely unaware of the speech, saying Natalia prepared it on her own. They say they knew about Pereverzeva`s pro-activist stance, but did not expect she would go public about it at Miss Earth.Her flaming speech, however, certainly didn't hurt her prospects at the pageant as she goes through to the finals on November 24 in Manila, the Philippines.