LIVE ON RT: Daredevil snowboarder to jump off Moscow skyscraper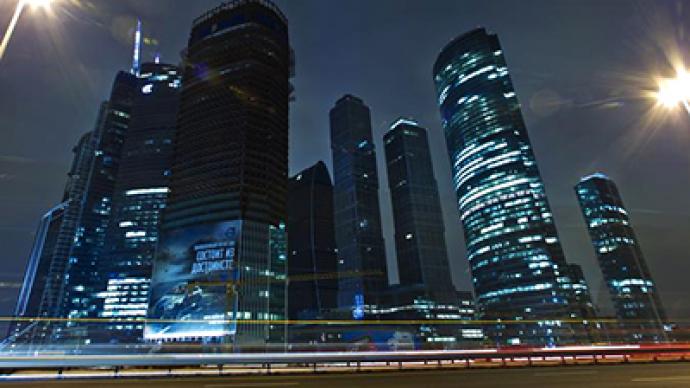 A Russian daredevil is planning to pull off a breathtaking stunt: a base jump off a 60-story skyscraper in Moscow with a snowboard, breaking the world record. This will be 1000th jump for the fearless skydiver. Watch LIVE here on RT.
Base jumper, snowboarder and sky-surfer Pavel Olshansky is going to mark his milestone jump by leaping off the 264-meter 'Imperia' skyscraper in the Moscow City business district on February 25.But it will not be a regular jump, as Pavel will be geared up with a snowboard. He will first take off from a ramp on a snowboard to gain speed, then perform a backflip and jump off with a parachute. Pavel told RT he will wearing a wingsuit and plans to open his parachute after 3-3.5 seconds into the jump."The rest of the fall will take around 15-30 seconds," he said. "The ideal conditions for the jump are no wind and good visibility."
And the final tricky part of the jump will be landing back on the snowboard. At least 10 cameras will record the stunt, two of which will be RT's. A cameraman specializing in base jumping will jump off simultaneously with Pavel to capture the new world record.  Base jumping is a type of jump done from a fixed object such as a building, broadcast tower, bridge or mountain peak with a parachute to break the fall. The stunt itself is very unique. "Not a lot of people base jump with snowboards," said Pavel. "It will be interesting to mix two types of sports that are very different from each other, yet have interesting similarities. Usually people who base jump are also good at snowboarding." The Russian trains for the two parts separately and is excited to put everything together. "It's easy to do everything separately, but when you put it all together, there are lots of unknowns and you have to think through quite a lot." Pavel has been base jumping since 1993 and has conquered many peaks. "I can jump off anything. I jumped of all kinds of objects including bridges, antennas, buildings, mountains. I did base jumps in Moscow in the past too, from the roofs of Olympia tower, Ostankino television tower and Federation tower."You can watch the jump live here on RT on February 25.
You can share this story on social media: