Bahrain arrests 22 over anti-govt protests
Bahrain has arrested 22 suspects over their alleged involvement in the unrest during a recent series of rallies against the Al Khalifa regime, including in the Formula One Race protest earlier in April.
The detainees are suspected of attacking security forces and blocking roads during a wave of anti-government protests that rocked the kingdom in the Persian Gulf since late February.

The arrests were made in Shiite villages in connection with alleged acts of violence, police said as cited by AFP. Law enforcers were still searching for other suspects.

Six people were detained for alleged participation in a March 7 "terrorist attack" on police patrols in the village of Maqaba, west of the capital Manama, police said in a Saturday statement as cited by Bahrain News Agency (BNA).

Two more people allegedly participated in attacking police "with firebombs and iron rods" in the village of Wadyan on the island of Sitra on March 28.

Among other arrested were also people suspected of blocking roads and burning tyres near Bahrain International Airport on April 14.

The police did not clarify when exactly arrests were made.  According to Al-Wefaq – the main Shiite opposition group – 14 people were arrested during raids on Thursday and Friday, AFP cites on Sunday.
Demonstrations – calling for democracy and an end to the monarchy – have been continuing in Bahrain for two years. Protests particularly intensified as the Gulf country was preparing to host the Formula 1 race on April 21. The protesters claimed the F1 event – that they labeled "race for blood" – overshadowed the ruling Bahraini Sunni royal family's many human rights abuses and repression of the country's Shiite population.
Human rights groups have reported that at least 80 people have been killed and thousands arrested since the demonstrations began in 2011.
One of the best-known cases of the Bahraini regime cracking down on opposition was the arrest of prominent activist Nabeel Rajab, who openly criticized the regime, following an interview on RT in Julian Assange's show The World Tomorrow. In August 2012 Rajab was sentenced to three years in jail for "participation in an illegal assembly" and "calling for a march without prior notification."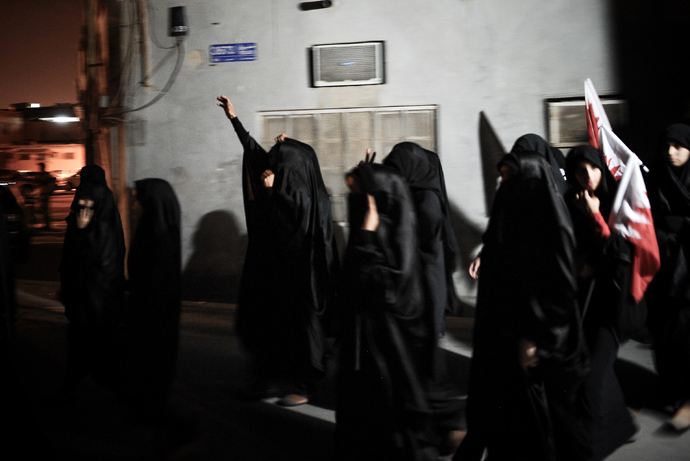 Earlier in the week, the kingdom – which is home of the US Navy's Fifth Fleet - cancelled next month's planned visit by the United Nations' torture expert, citing delays in "ongoing national dialogue."
"Let me be clear, this was a unilateral decision by the authorities," Juan Mendez, the UN's Special Rapporteur on torture said in a Wednesday statement. "This postponement could be perceived as if there was something to hide," he added. His February trip to Bahrain was also blocked.
According to Amnesty International, the latest cancellation "shows that Bahrain is clearly not serious about implementing human rights reforms." 
"The authorities have used the buzzword of 'reform' as a smoke screen, when in reality they are not reforming," said Hassiba Hadj Sahraoui Amnesty International's Middle East and North Africa Deputy Director, the human rights watchdog cited on its official website.