Bahraini police disperse protesters with tear gas, water cannon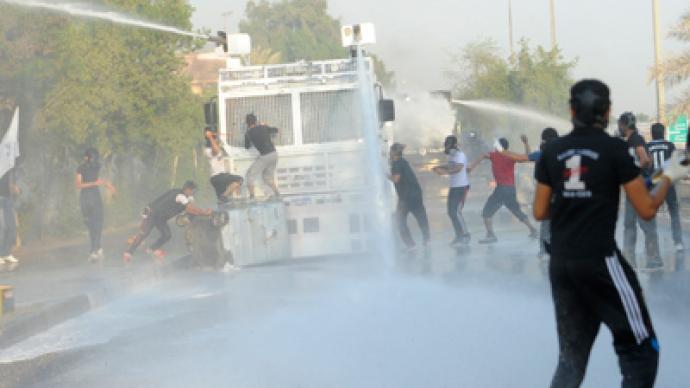 Water cannon and tear gas have been deployed to disperse hundreds of anti-government demonstrators in the capital of Manama. Protesters hurled firebombs at police, as they gathered after the funeral of an activist who died whilst in custody.
Clashes broke out after the crowd tried to break through to Pearl Square, which was the cradle of the popular uprising in Bahrain last year. Riot police units were showered by petrol bombs and stones, with one water cannon catching fire.The clashes followed a memorial service for Mohammed Ali Ahmed Mushaima, who died on Tuesday. Mushaima, 23, had been in hospital since August. Authorities say he died of blood disease, but opposition activists insist he was refused the proper treatment, which lead to his death.In March 2011 Mushaima was detained with hundreds other protesters, inspired by the Arab Spring uprising in Egypt and Tunisia. He died whilst serving a seven year prison term on charges of "vandalism, rioting, assaulting a police officer and resisting arrest". Bahrain, which hosts the US Navy's Fifth fleet, continues to see almost daily demonstrations and clashes. The Shiite Muslim majority demands a bigger role in running the country controlled by al-Khalifa family, who are Sunni Muslims.At least 50 people have died in nearly 20 months of unrest, with a 16-year-old boy becoming one of the latest victims.Thousands of anti-government activists have been arrested, says the Bahrain Center for Human Rights. This includes human rights activist Nabeel Rajab who, after several detainments, was sentenced to three years in jail for "participation in an illegal assembly" and "calling for a march without prior notification." His bail request was rejected on September, 10.
You can share this story on social media: