South Korea 'suspends' sales of tear gas to Bahrain over misuse fears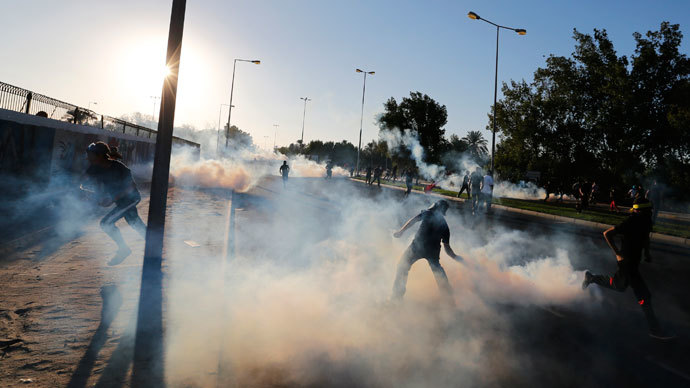 The South Korean authorities have reportedly told two of its national companies to halt tear gas exports to Bahrain due to concerns over the misuse of the substance by the Gulf state and pressure from human rights groups.
The private companies were instructed to refrain from shipping tear gas to the island kingdom by the government's Defense Acquisition Program Administration.

Both firms sold lachrymator to Bahrain in 2011 and 2012, unnamed officials told AP.

Export of tear gas is impossible without governmental approval in South Korea because a key ingredient of the crowd control agent is listed as a strategic material in the country.

The officials explained that the decision was made after media reports that misuse of tear gas in Bahrain caused deaths among dozens of protestors and calls from the human rights organizations.

An online campaign by the Gulf State's opposition human rights group, Bahrain Watch, saw people sending over 400,000 emails to Korean defense officials, demanding to stop lachrymator supplies.
Great news tht #SouthKorea cancelled #teargas shipment.. now what abt those other countries selling weapons to #Bahrain? #US#UK#Cyprus etc

— Maryam Alkhawaja (@MARYAMALKHAWAJA) January 7, 2014

Amnesty International has praised South Korea for the decision, which will "help prevent further human rights violations in Bahrain."

However, Bahrain's interior ministry said that it had not been formally notified about any bans on the export of South Korean tear gas.

"Tear gas is used by Bahrain's police force only as a necessary and proportionate measure and in public order and riot control situations," the ministry said in a statement.

Bahrain, a Sunni monarchy which hosts the American's Navy's Fifth Fleet, is going through a period of unrest since the country's Shiite majority began demanding more rights from its Sunni Muslim rulers.

At least 89 people have been killed in the Sunni-ruled kingdom since protests began in March 2011 when Shiite-led unrest led to a violent crackdown.

Dozens of protesters across the country have been put in jail since then as rallying in the capital became subject to a ban.

In April, rallies intensified during the Formula 1 Grand Prix. Protestors said the event overshadowed the many alleged human rights abuses in Bahrain. Multiple reports of physical and psychological torture emerged during the race, according to the Human Rights Watch.
You can share this story on social media: