Twenty-three Bahraini health workers sentenced to prison
Published time: 22 Nov, 2012 20:30
Edited time: 23 Nov, 2012 04:01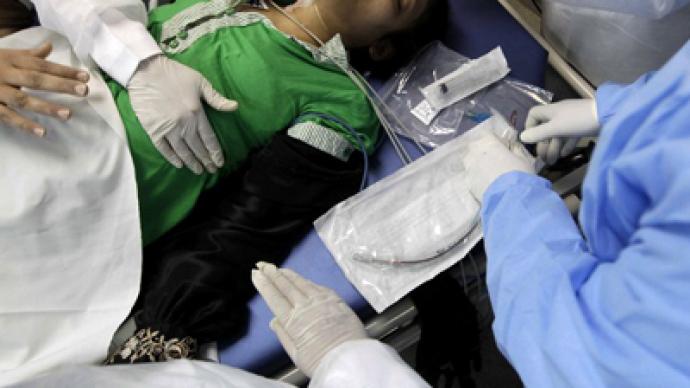 A court in Bahrain sentenced 23 medics to three months in jail after they treated protesters and took part in demonstrations.
The doctors and nurses sentenced on Wednesday are among the 95 health workers arrested between February and March 2011, when Arab Spring demonstrations in Bahrain were in full swing.
According to the verdict, the health workers have the option of paying 200 Bahraini dinars ($530) each to have their prison terms suspended.
Following a popular uprising on the island in February 2011, Bahrain has seen regular anti-government protests.
Manama has appealed to Saudi Arabia and the United Arab Emirates – both also Sunni Muslim states – to help bolster its security and military forces and help with the crackdown on peaceful protests.
A report published Wednesday by Amnesty International concluded that "the authorities in Bahrain do not have the will to carry out the steps necessary to reform."
The report added that Bahrain's allies, singling out the US and Britain, have a duty to condemn what is happening there and to take action. To date, criticism from Washington and London has been muted.
A 2011 report by an independent commission of human right experts found the Al Khalifa regime used "excessive force" in the campaign to quash the protests. The Bahrain Independent Commission of Inquiry also accused Manama of torturing protesters, politicians and political rights activists.
Dozens of people have been killed in the demonstrations, mostly as a result of the heavy-handed crackdown by the Bahraini government.  
But protesters have said that they will continue with their demands for the establishment of a democratically elected government.
The case against the medics dates back to February 2011, when they worked at Manama's Salmaniya Medical Center, and has drawn a wave of international criticism. The hospital treated many people injured when security forces cracked down on protests. Some medics spoke out about the behavior of the authorities to foreign media and took part in protests after ambulances were fired upon.
At least 95 health workers were arrested, and in September 2011, 20 were sentenced to up 15 years in prison. Some were released on appeal, and according to the Amnesty International report, have spoken of being tortured in prison.
The medics "have been put under fierce torture" for treating innocent people who were shot by police, the former MP from Bahrain's largest opposition party Al Wefaq, Jalal Fairooz, told RT.
"The ICI investigation team has been reporting all these atrocities and all these tortures," Fairooz said. "And it required that all the initial charges be dropped because they were officially charged by a military court. Aside from these 23, another 18 were charged with much heavier charges."

'Abducted, mistreated, tortured'
A doctor who was arrested, tortured and sentenced – and then acquitted by a civilian court has told RT of her experience.

"As a punishment for not obeying the authorities to abandon these patients, all the doctors who were involved in treating these patients, they were arrested. Myself personally, I was abducted from my house at 3 am in the morning, and I was badly mistreated… I was tortured. Later on, after being jailed for almost two months, I was prosecuted, tried in a military court and was sentenced to 15 years imprisonment," says Nada Dhaif.

"The regime does not prosecute for treating protesters. Rather, they make up fake charges to prosecute those who help those in need. They [the government] fabricates crimes, but the main issue here is to punish those who stood in the face of the regime and disobeyed the orders. Standing for the Hippocratic oath or not, its does not really matter," Dhaif explained.
Commenting on a recent investigative report by Amnesty International, Dhaif believes nothing will pressure the Bahraini leadership to opt for a democratic solution, as they choose to rule by repression.

"This is one in a series of floods of reports, detaining and human rights violations in Bahrain – but the willingness of the regime to obey this [report] or to respond to pressure is obviously to choose the other direction, to continue repression and suppression. I don't see that it's going to change much in reality."