Four arrested for insulting Bahraini King on Twitter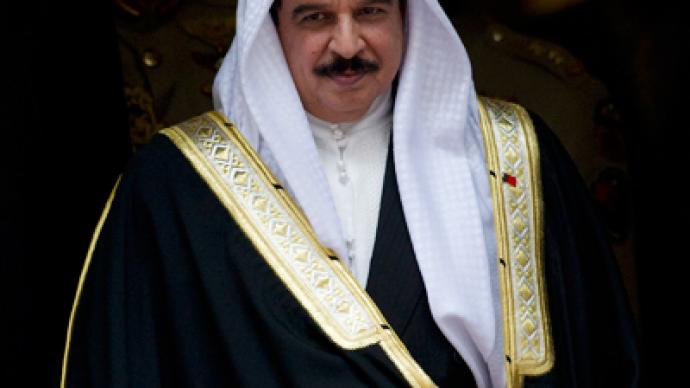 Bahraini security forces have detained four men for allegedly insulting the gulf monarchy's king on Twitter. The arrests come as part of a greater crackdown against opposition activists in the Gulf Kingdom.
Bahrain's public prosecutor Ahmad Bucheeri said the four unidentified men were interrogated and charged with slandering King Hamad bin Isa Al Khalifa."They will be held in custody for seven days and will face an urgent trial before the criminal court," he continued.Bucheeri stressed that Bahrain's constitution guaranteed freedom of opinion and expression, but said "this freedom should not clash with the social precepts and traditions." He did not elaborate on what the relevant tweets said.The arrests come as Bahrain's parliament called on all ministers and senior officials to have Twitter accounts "to boost their interaction with the citizens," Gulf News reports.
Oppositional crackdown
Twitter and other social networking media have become essential tools in the opposition's fight to get their message out in the Gulf Kingdom, as Bahrain's image has been tarnished in a series of recent human rights scandals.On Thursday, The Bahrain Center for Human Rights (BCHR) said it was "extremely concerned" about the condition of five imprisoned medics who went on hunger strike last week to protest their unjust detention.Earlier this month, Bahrain's top court confirmed the jail sentences for nine doctors sentenced for their role in last year's pro-democracy protests. The BCHR 20 doctors and medics in total were targeted for their role in providing treatment to those injured by government security forces at the inception of the Bahraini uprising in February 2011. The five currently on hunger strike say they were "subjected to severe torture" and were forced into their confessions.The leaders of the Bahrain teachers Association are also facing between three and 10 years in prison when a court announces their final verdicts on Sunday. Jalila al-Salman and Mahdi 'Issa Mahdi Abu Dheeb have been charged with "attempting to overthrow the ruling system by force and inciting hatred of the regime" for their role in organizing a teachers' strike in support of the opposition's call for reforms. Both complained of being tortured while in detention and were forced to sign confessions, Amnesty International says.In July, prominent protest leader Nabeel Rajab was sentenced to three months in jail for insulting Prime Minister Sheikh Khalifa bin Salman Al Khalifa, a member of the ruling family, on Twitter. "…Everyone knows you are not popular and if it weren't for the need for money, [the resident's of Bahrain's third largest city Muharraq] would not have welcomed you," Rajab wrote.Rajab, the president of the Bahrain Center for Human Rights, was charged with ""publicly vilifying" the people of Muharraq, but was later acquitted on appeal. In August, however, Rajab was sentenced to three years in prison on three separate charges of inciting anti-government protests in both speeches and twitter updates.Pro-democracy protests erupted in February 2011 with the country's majority-Shiite population demanding greater political freedoms in the Sunni-ruled kingdom.One of the primary demands of the protesters has been for the prime minister, who has been in office since 1971, to step down.The United States has been accused of turning a blind eye to the kingdom's harsh crackdown against the opposition. Bahrain currently hosts the US Navy's Fifth Fleet, which is responsible for the maritime forces in the Persian Gulf, Arabian Sea and beyond.Rajab told an Irish human rights group Front Line Defenders in July that the presence of the US naval forces in Bahrain had emboldened the country's monarchy to clamp down on the opposition."Because they have the support of the United States, they have the support, or the silence, of the international community, that is seen here as a green signal, that's why they are proceeding — more repression, more attacks against human rights defenders," he said.
You can share this story on social media: