Bahraini activist Nabeel Rajab's appeal trial resumes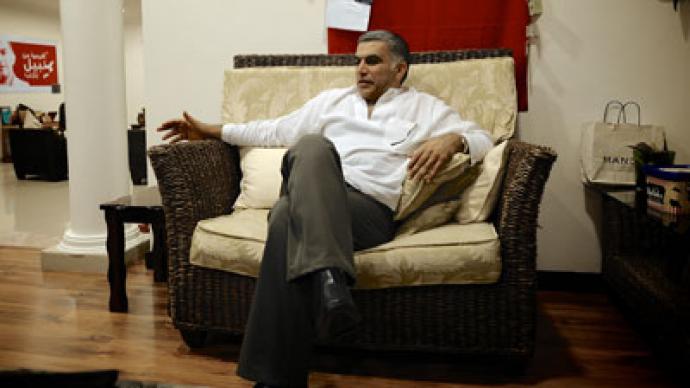 Leading Bahraini human rights activist Nabeel Rajab's appeal trial to a three year sentence resumes Thursday after his lawyers challenged the trial's fairness. Rajab will remain in detention, having been refused bail.
Rajab faces three criminal cases against him over his participation in peaceful gatherings in support of human rights and democracy, which the charges note he also helped to organize. He has been in police custody since July 9, and on August 16 a lower Bahraini court sentenced him to three years for "involvement in illegal practices, inciting gatherings and calling for unauthorized marches through social networking sites." On September 10, his request for bail was rejected.In response to the sentence, Rajab's son Adam tweeted, "jail me for 3 years or 30, I will never give up," quoting his father.Rajab told the court that he had been mistreated in prison. The three-year sentence followed a three-month prison term for posting anti-government messages on Twitter that had been handed down to him on July 9. He had tweeted in June that residents of the town of Muharraq had made a show of support for Bahrain's prime minister only because they were paid to do so.He was fined $800 on June 27 for the critical tweet. Prior to this, he was arrested and released twice in May after appearing as a guest on The World Tomorrow, broadcast by RT and hosted by WikiLeaks founder Julian Assange, where he criticized the US invasion of Iraq and Washington's refusal to take action during the Bahraini protests.Rajab is a fierce critic of the Bahraini authorities and a prominent international human rights activist. He is a member of the Advisory Committee of Human Rights Watch's Middle East Division.He is also one of Bahrain's best known bloggers, and being in jail has not slowed down his popularity, with his Twitter account boasting over 170,000 followers. During Thursday's hearing, Rajab's lawyers will argue that defense evidence was not heard before he was convicted and sentenced. Souhayr Belhassen, President of the International Federation for Human Rights, condemned the sentence, saying "it's been over a year that the Bahraini people have been peacefully asking for human rights and democracy. How does the government remain so deaf to these calls?" In a separate case on September 10, Bahraini human rights blogger Zainab al-Khawaja also appeared in court. She has been jailed for participating in peaceful protests, with 13 cases currently filed against her. The World Organization Against Torture issued a statement Thursday calling for Bahraini authorities to respect Bahrainis' rights to peaceful assembly and expression. Anti-regime protests in the island nation, home to the US Navy's 5th Fleet, have been ongoing since the beginning of February 2011. As of April 2012, at least 50 people have been killed in the clashes, with nine of them under the age of 18. Human Rights Watch has repeatedly condemned the Bahraini police for using excessive force against protesters. The police's conduct in Bahrain has been described as "brutal," with midnight raids, beatings at checkpoints and even activists being denied medical care. Around 3,000 people have been arrested since the opposition movement began. The protestors were initially calling for greater political freedom for the majority Shia population, but after a deadly night of clashes with police on February 17, 2011, they are also demanding the end of the monarchy of King Hamad, a Sunni Muslim whose government received Western backing.
You can share this story on social media: