Eight people killed, two dozen injured as mortars, blast hit Iraqi mosques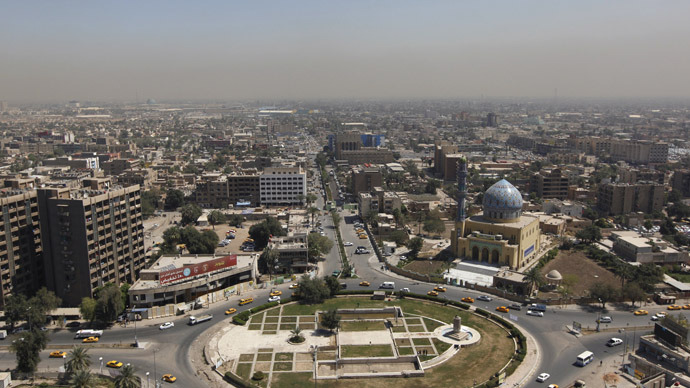 At least eight people have been killed in Iraq after mortar rounds targeted a Sunni mosque and a bomb exploded inside a Shia mosque. The attacks come just one day after a suicide bombing killed 27 people at a Baghdad cafe.
Mortar rounds landed outside the Sunni mosque in a village near Khalis during Friday prayers, killing seven people and wounding a dozen more, according to local police.
A bomb placed inside a Shia mosque in Kirkuk - 100 miles north of Baghdad - killed one person and injured 12 others as worshippers were leaving, officials told Reuters.
The attacks come just one day after a suicide bombing at a Baghdad cafe killed 27 people and injured dozens.
Although no one claimed responsibility for Thursday's attack, Al Qaeda's Iraq branch has increased its number of suicide attacks since the start of 2013, in what is seen as an attempt to ratchet up widespread tension between the country's Shia and Sunni Muslims.
The café where the late-evening attack took place is popular among young people who often stop by to use the internet.
Many victims were said to be trapped under the rubble of the collapsed building as emergency personnel worked to get them out. The 'Dubai Café' was on the third floor of the structure, which also contained a shopping center, making the rescue effort more difficult.
A police spokesman told Reuters that "it was a huge blast" and that "part of the building fell in and debris hit people shopping in the mall below."
The 'Islamic State of Iraq', as the main suspects are called, have been promising to intensify attacks, with fears the group is gaining influence. It's allegedly begun recruiting from the western desert, which borders war-torn Syria. Doing so has been made easier due to increasing instability, fueled by the constant inflow of weapons and insurgents into the neighboring country.
It has only been four days since a series of bombings took 55 lives and injured 300 across the country. All of this takes place as Iraqis prepare to head for the polls on April 20 to hold provincial elections - their first since the withdrawal of US troops, following a decade-long occupation of the country.
The elections will be a test of Prime Minister Nuri Maliki's political clout – ahead of the 2014 parliamentary elections – but also of the country's stability as a whole, which is questionable at the moment, given its crumbling infrastructure, widespread poverty and the devastation of constant violence that shows no signs of abating.
You can share this story on social media: