At least 56 killed, 200 wounded in series of explosions in Baghdad (VIDEO)
Car bombs and roadside blasts have killed at least 56 people and wounded nearly 200 in Shi'ite districts across the Iraqi capital Baghdad on Tuesday, according to police and hospital sources.
The Iraqi capital has been shaken by at least 16 blasts throughout the morning, most of them car bombs, including those detonated by suicide bombers.
Police officials say the attacks targeted mainly small eateries, groups of laborers and bus stops, all within a one-hour period.
The first attack took place near a small restaurant in Baghdad's Mashtal neighborhood, killing four people and wounding 15. Minutes later, two laborers were killed and eight were wounded when a roadside bomb hit the place where they gather every day in an area of New Baghdad.
In the neighborhood of Sadr City, a sticky bomb attached to the underside of a minibus killed three commuters and wounded seven people. Another car bomb exploded in a commercial street in the same Shiite area, killing two people and wounding 11.
"I was driving my taxi and suddenly I felt my car rocked. Smoke was all around. I saw two bodies on the ground. People were running and shouting everywhere," Al Radi, a taxi driver caught in one of the blasts in Baghdad's Sadr City, told Reuters.
In the northeastern suburbs of Baghdad, four people were killed and 11 others wounded after a car bomb went off near a small restaurant in Hussainiyah neighborhood.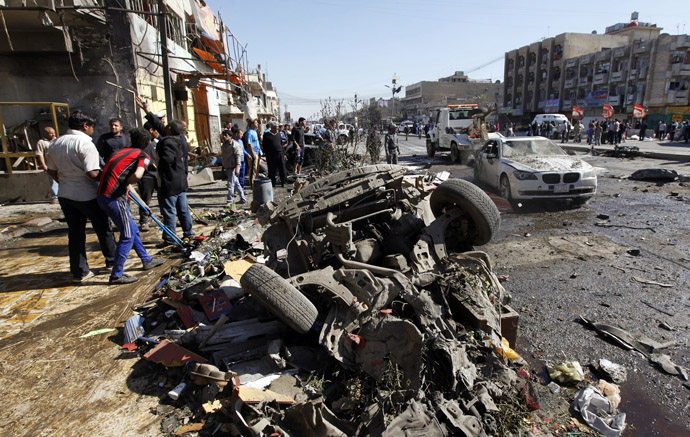 In Zafarniyah, two car bombs exploded near a police station, killing five people, including a policeman and wounding 27, said police. In northern Baghdad, a car bomb went off near a bus stop, killing three and wounding 13.
In downtown Baghdad, a car bomb exploded near a restaurant not far away from the well-protected green zone, killing six people, including two soldiers and wounding more than 15. In Shulla, a car bomb exploded near an outdoor market, killing five people and wounding 21.
Security forces have immediately stepped up searches at checkpoints, closing off key roads and worsening the capital's morning gridlock, a reporter for AFP said.
There was no immediate claim of responsibility for the blasts.
The attacks coincide with the 10th anniversary of the US-led invasion of Iraq, which saw long-time dictator Saddam Hussein ousted.
Similar 'anniversary attacks' last year took the lives of 45 people and wounded 216.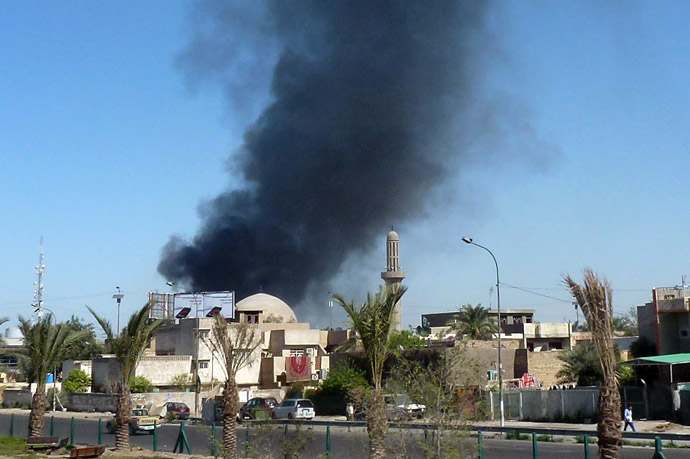 You can share this story on social media: