Azeri police fire rubber bullets at rally against violence in military (PHOTOS)
Police in Azerbaijan have used rubber bullets and water cannon to disperse an unsanctioned opposition rally in the capital, Baku, on Sunday. 60 demonstrators have been detained as hundreds protested against non-battle casualties in the Azeri army.
"No to deaths in the army," shouted protesters at the rally which gathered around 500 people at the Fountains Square in the city center, as estimated by Reuters.
The demonstration was organized mainly via Facebook by young opposition activists, including the Nida (outcry) movement, which saw three of its members arrested on Thursday after being accused of plans to bring Molotov cocktails to the rally. 
"I can't be indifferent to the fact that young soldiers die in our army almost every week," a protester told Reuters.

The police say they resorted to violence after their attempts to reason with the crowd through the loudspeakers failed.
The protest is one of a series of actions provoked by the sudden deaths of soldiers Jeyhun Gubadov and Seymour Allakhverdiev on January 7 and February 28, respectively.
Azerbaijan's Defense Ministry claims Gubadov died of a heart attack, while Allakhverdiev committed suicide, but the relatives of the late servicemen, as well as the protesters, believe that the men were murdered.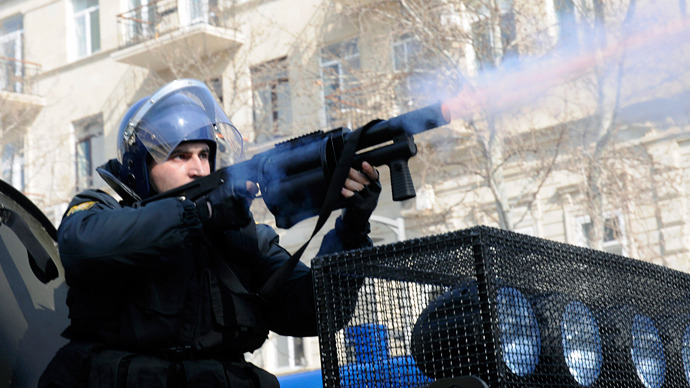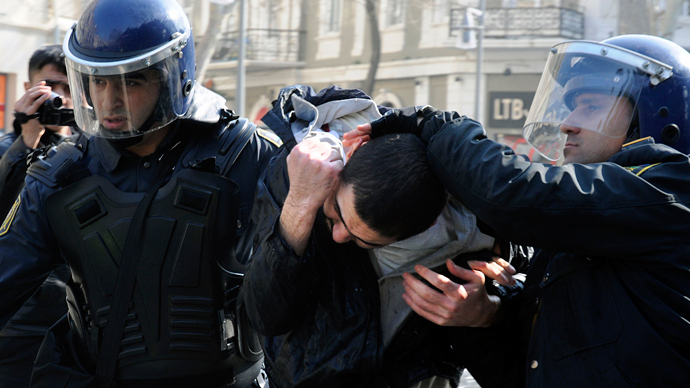 You can share this story on social media: