Eyes right! Austrian elections follow Europe's rightist trend
Austria's far-right Freedom Party gained over one-fifth of the votes in Sunday's general election, while the ruling two-party centrist coalition got its worst-ever result. The swing comes amid a Europe-wide surge in support for the far right.
Though Austria's two major centrist political parties, the conservative Popular Party and the center-left Social Democrats, have retained their majority in parliament, the resurrection of the far-right in Europe is a solid tendency marking a shift in the political mentality of Europeans.

Euroskeptic and right-wing parties in Austria have gained support from people who think the issues that matter most to them aren't being addressed.

The extreme, radical right is drawing mass support from working-class, blue-collar voters, Sylvia Kritzinger, a political scientist at the University of Vienna, tells RT's Peter Oliver. "Because of the policies they put forward, like immigration reform, anti-European integration, anti-corruption in the political system."

The Viennese people Peter Oliver talked to are certain they want to "slow down immigration," stop the EU "dictating everything" and "put Austria's interests first."

The leader of the Freedom Party, Christian Heinz Strache, insists he is not a racist. "I love Austria, I don't hate foreigners," he says.

Across Europe, there's a tide that's turning right. Britain's UK Independence Party (UKIP), which favors pulling out of the EU altogether, is being talked about as the country's legitimate third party.  Meanwhile, another euroskeptic party, Alternative for Germany, just missed out on a place in the Bundestag. Greece's Golden Dawn ultranationalist is the country's third-largest political group. Norway's conservative government came to power with tough immigration promises and there have also been far-right gains in Sweden and Finland. The latest country to swing to the right is Austria.

Austria is one of the four EU economies that underpin the eurozone, so a challenge to the parties who support the common European currency in the country could potentially affect the continent's economic course. 
Many Austrians have voted for the Freedom Party, which many critics call xenophobic, because they "don't trust politicians in Brussels and Austrian decision-makers anymore," Barbara Kolm, director of the Austrian Economic Center, tells RT. "They don't believe they find the right solutions. After all it is just redistribution on a supranational level. It's Austria's tax euros going to other countries and just washed down the drain."

This time the Freedom Party adopted a different campaign tactic from in previous elections.

"Their message is about religious values," says Kritzinger. "They talked about 'love your neighbor,' which is a very Catholic way of thinking, but of course the hidden message behind this is that they are against Islam and Muslims." 
For more on Austria's elections, watch Peter Oliver's report for RT.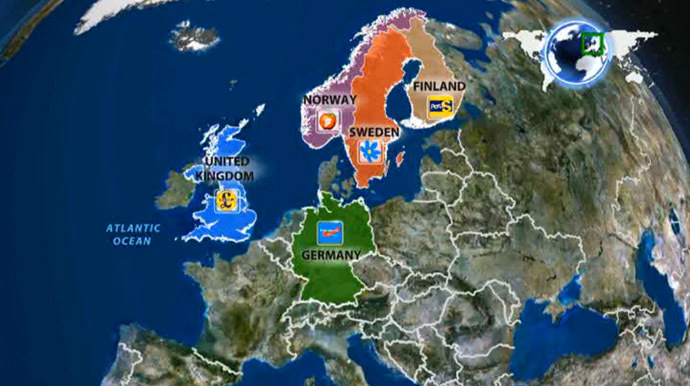 You can share this story on social media: