License to dine-n-dash: Daredevils base-jump out on bill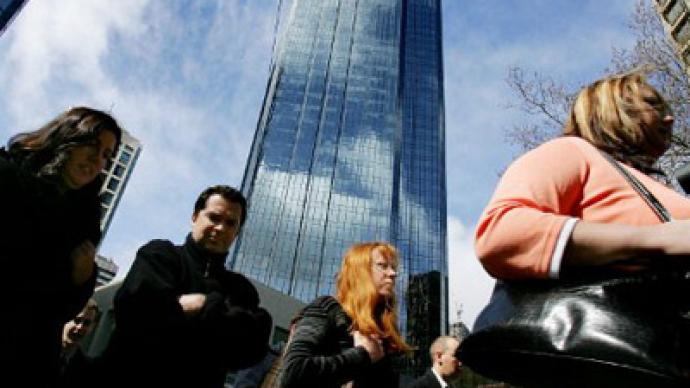 What appeared to be a scene from a James Bond movie turned out to be a sophisticated case of grub-and-snub. A group of suit-clad daredevils base-jumped off the fifty-fifth floor of a skyscraper to avoid paying for drinks at a restaurant.
Four thrill seekers disguised as smart-looking businessmen with suitcases came to the Vue de Monde restaurant located in Melbourne's tallest building – the 823-foot (63-story) tall Rialto Towers. The men made their way in and ordered some Negroni cocktails, costing 20 Australian dollars (about US $21) each. After sipping their way through a seemingly immaculate conversation, the four got up to use the restroom. However, they quickly dashed out onto the balconies, locked the doors and jumped off. Apparently, their parachutes were hidden under their suits. Their suitcases were used to conceal camera-fitted helmets. Prior to leaping, the four made sure they put the helmets on to film the stunt.  According to numerous eyewitnesses, the men opened their parachutes and glided their way down to the ground. One of them did get tangled up in a tree but was assisted by his fellow daredevils.In the flash of a second, a car pulled over and the men got in and drove off, ditching the police and restaurant staff, showing that their extravagant way of running out on a check was meticulously planned. "It was not cool – it was stupid," police chief Keiron Walshe said. As the men apparently recorded their feat on film, the footage will probably soon be available on YouTube.Restaurant walkouts have been on the rise lately. Although there is no statistical data, anecdotal evidence seems to show that the economic downturn has led to a slight rise in the number of 'dine-and-dash' incidents, at least at cheaper restaurants in the United States, according to the Nation's Restaurant News magazine. Two factors are to blame – staff cuts at restaurants, meaning there are fewer people to monitor clients at restaurants, as well as a growing number of people simply unable to afford a costly meal. But some customers at upscale restaurants tend to do it for a thrill, which was obviously the case in the recent base-jumping story. Earlier this year, a 22-year old man tried to run out on a check at an Applebee's restaurant in New Mexico that was conducting a fundraising event, in which tips for cops working as waiters, went for the Special Olympics. The man was easily snagged by the policemen and charged with unlawfully obtaining services less than $100.Last year, a couple of teenagers were arrested after not paying on their check at a TGI Friday's in Florida. One of the teens tried to leave the restaurant through a fire exit, setting off an alarm. He then managed to escape to the parking lot where he and his companion, who also turned out to be his date, were arrested by police. He claimed that he and his girlfriend were homeless and had no money to buy food.
You can share this story on social media: