Refugees not welcome: Australians protest crackdown on asylum seekers
Rallies have taken place all across Australia to protest the recently announced crackdown on immigrants. The decision was met with a violent riot at one of Australia's offshore refugee processing camps, where hundreds of detained asylum seekers escaped.
An estimated 1,000 people in Sydney, 600 in Melbourne as well as smaller crowds in Canberra and Perth took to the streets on Saturday to protest the new hardline immigration policy, announced by Prime Minister Kevin Rudd one day prior.
 
Rudd's message was "if you come by boat you will never permanently live in Australia." The "boatpeople" will be transferred to detention facilities in Papua New Guinea and later settled there if their refugee bid is approved. The two countries have struck an asylum deal, regulating the procedure.

Home Affairs Minister Jason Clare said police would pay rewards of up to $200,000 for information leading to the conviction of people-smugglers.
"These people are peddling in misery and death. We need to shut this market down. That's why we are putting a bounty on their heads," the minister explained.

Protesters argue Papua New Guinea is not able to cope with the 20,000 refugees expected to land on its soil as it can hardly handle the 200 asylum seekers currently accommodated on Manus Island, where many are regularly sent to Australia for medical treatment they can't get in the Oceanic state.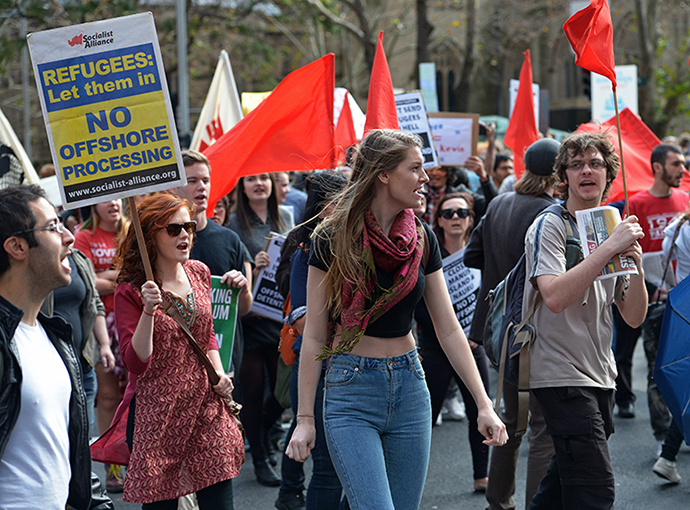 "This policy, where we send refugees packing to Papua New Guinea, our poor struggling neighbor, is going to fall apart, in practical terms, within the next couple of weeks," Co-chair of the Refugee Action Collective, Lucy Honan, is cited by The Age daily.

Asylum seekers being held at an Australian detention facility on Nauru staged the most violent riot the island nation has ever seen, according to reports from witnesses.

Half of the more than 500 detainees escaped from the facility, which was almost completely destroyed according to a local photographer Clint Deidenang.

Smokes can be seen from the torched story buildings. All buildings damaged except for one giant building. 95% buildings burned out. #Nauru

— Clint. Deidenang (@clintd22) July 19, 2013
All burned buildings are now unlivable. Total waste of moneys. If the RPC is to be used again to accommodate detainees new buildings needed.

— Clint. Deidenang (@clintd22) July 19, 2013
The damage is estimated at Aus $60 million (US $ 55 million), according to officials cited by AFP.  

All of the escaped detainees were recaptured and 129 of them were arrested, potentially facing up to 7 years in jail if found guilty of instigating the rioting. The rest have been transferred to another detention area on the same island, where tents were erected for them.
On Saturday morning a boat with 81 passengers and two crew members was intercepted off Australia's northwestern coast. The asylum seekers onboard will be the first to be sent to Papua New Guinea according to the new law.