Anti-austerity protests rock Slovenia as fears of bailout grow (PHOTOS)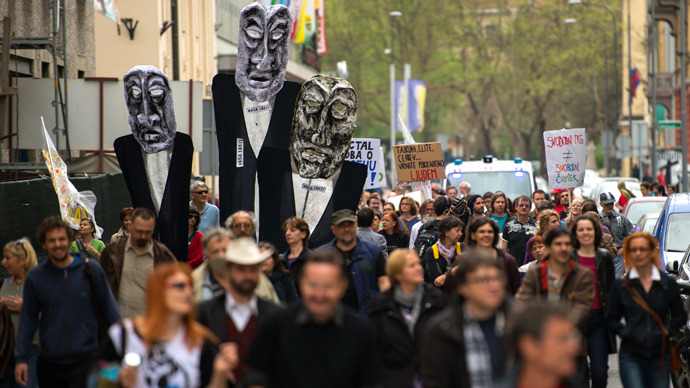 Around 2,500 protesters have gathered in the center of Ljubljana, the Slovenian capital, on Saturday to protest against further austerity measures, which are due to be introduced by the new center-left government.
"I am here because I believe we have to get rid of anyone who has held high political office during the last 20 years. I fear that things will get even worse in Slovenia if the Troika comes, but I hope that can still be avoided," Damijan Sencar, a 51-year old electrical engineer, told Reuters.
Saturday saw the first demonstrations since the center-left government of Prime Minster Alenka Bratusek took office in late March.
The new government plans further tax increases and public sector wage cuts in order to further reduce it though the deficit has fallen from 6.4 percent of GDP last year to 4 percent this year.
Many on the streets of Ljubljana expressed hope that Slovenia will be able to avoid a Cyprus- or Greek-style bailout.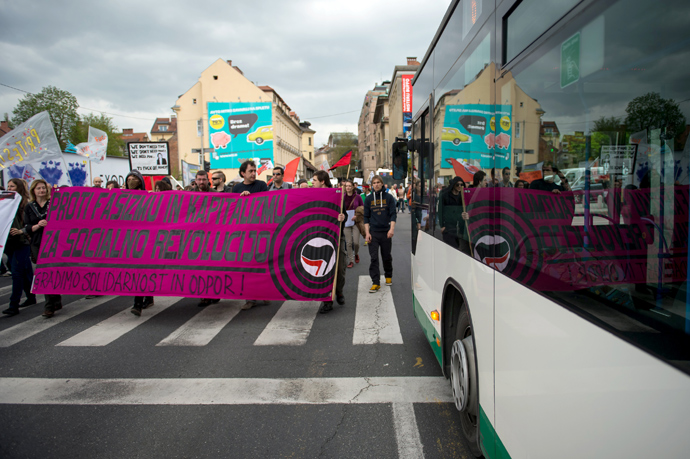 The country's three biggest banks are seen as in a risky position, and the state has a large stake in all of them. The government is planning to establish a special bank in June that will take over most of the country's toxic loans burdening the ailing banking sector.
Slovenia was badly hit by the global financial crisis and fell into recession last year amid lower export demand and a fall in domestic spending caused by budget cuts. Unemployment is also at a 14-year high, and is expected to rise further.
But the government of the tiny Alpine state of 2 million people says the country will be able to solve its problems without international help.
The Troika – a group of EU and IMF lenders – is likely to be as unwelcome in Slovenia as it was in Cyprus.
Banners held by the protesters read "Power to the people" and "Let's fire the troika, not the people." Similar protests in January helped to topple the conservative government of Janez Jansa, drawing crowds of up to 20,000 people.