Suicide squad strikes Afghan spy HQ in Kabul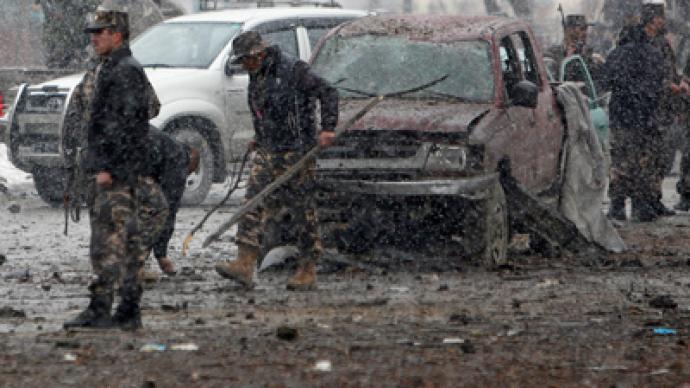 Six suicide bombers – including one in a car laden with explosives – struck Afghanistan's national intelligence agency in the heart of Kabul. At least two were killed and dozens of civilians were wounded, officials said.
The coordinated attack started around 12:00pm local time, when the first attacker detonated a large car bomb near the entrance of the National Directorate of Security (NDS), Kabul's police chief said in a statement.Five others militants, all of whom had bombs strapped to their chests, jumped out of a minivan in a brazen attempt to storm the gate of the heavily fortified building.All five men were shot dead in an ensuing 30-minute gun battle. The minivan, packed full of explosives, did not detonate and was defused by police.Two NDS guards were killed in the initial blast and at least 22 more were wounded, security and health officials said.The Taliban took responsibility for the attack in a text message to AFP, claiming that "a large number of intelligence workers were killed and wounded."The NDS plays a critical role in the battle against the Taliban, who have ratcheted up attacks over the last year in the run-up to the 2014 NATO troop withdrawal.In December, NDS chief Asadullah Khalid was wounded in an assassination attempt by a visitor at a spy agency guesthouse in an upscale Kabul neighborhood. Khalid is still receiving medical treatment in the United States.The most recent attack in Kabul occurred on December 17, when a car bomber targeted a compound used by a US military contractor. At least two Afghans were killed in the blast, and more than a dozen others were wounded.
You can share this story on social media: