Canadian police foil 'al-Qaeda-inspired' terror attack plot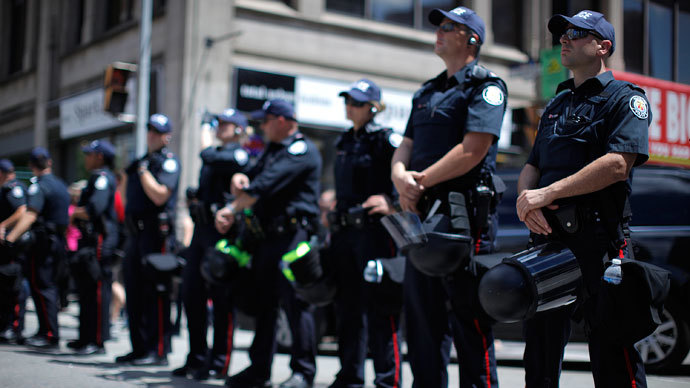 Canadian authorities have arrested a man and a woman who they say plotted to blow up the British Columbia legislature building using homemade explosives.
Officials confirmed during an afternoon press conference Tuesday that John Stewart Nuttall and Amanda Marie Korody of Surrey, BC have each been charged with knowingly facilitating a terrorist activity, conspiracy to commit an indictable offence and possession of an explosive substance.
According to police, the couple intended to detonate several pressure cooker bombs, similar to what were used at the Boston Marathon earlier this year, to target the BC legislature in the capital city of Victoria.
"We detected the threat early and disrupted it," Royal Canadian Mounted Police Assistant Commissioner James Malitzia said at the presser.
Tom Morino, a Victoria attorney representing Nuttall as of Tuesday, told the Vancouver Son, "There was a device planted. Beyond that I can say little more."
Authorities say Nuttall, 38, and Korody, 29, were inspired by "al-Qaeda ideology," although likely self-radicalized. Officials have failed to identify a formal link with the terrorist group.
The arrests stem from a five-month-long investigation spearheaded by the Canadian Security Intelligence Service under the name Project Souvenir that culminated with both suspects being arrested Monday, Canada Day. That probe would go on to include participation from the likes of both the RCMP and the Canada Border Service Agency.
Police also said there is no evidence or information to indicate that the investigation is linked to the Boston attack, where similar devices were killed four people and injured hundreds others during the city's annual marathon earlier this year. Authorities also discounted the possibility that the plot was tied to a similar incident in Surrey earlier this year in which a makeshift bomb was located on the city's SkyTrain metro system.
Both suspects are scheduled to appear in a Victoria, BC courthouse on Tuesday.
You can share this story on social media: