Asteroids should be colonized or used as transport to planets, Russian scientists say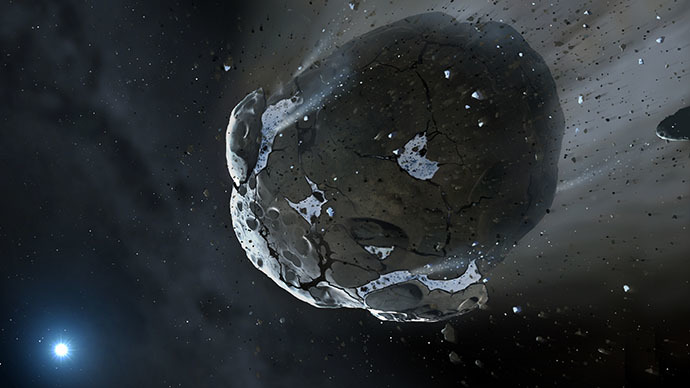 The potential colonization of asteroids is one of the most promising areas of space exploration - even more so than mining them for resources, Russian scientists say. The creation of closed-cycle ecosystems could possibly turn asteroids into space bases.
Asteroids are often easier to access because they sometimes pass very close to Earth. In fact, they are typically easier to reach than the moon, said Sergey Antonenko, head of the Khrunichev State Space Research and Production Center.  
"About 10,000 asteroids are circling around the earth and the asteroid belt consists of approximately 2 million bodies. Their total size is three times larger than that of the earth," Antonenko said at a space technology forum on Thursday, adding that it would be much better to develop the asteroids' interiors rather than mine them for mineral resources.
His view is shared by Andrey Degermendzhi, director of the Biophysics Institute of the Siberian Branch of the Russian Academy of Sciences, who believes that an asteroid's rotation could generate gravity and that closed-cycle ecosystems may be created inside the small celestial bodies.

He says such closed system technologies could be tested on Earth first. Degermendzhi also believes that asteroids could be used as a method of transport.
"Asteroids that have elliptical orbits fly to Jupiter and Mars and may be used as a new means of transportation or base," he added.

NASA has plans to put humans on an asteroid as early as 2021. This goal is expected to be achieved with the help of a new heavy lift rocket, which is currently being developed. The blue print is called the Space Launch System and it is hoped to be operational after a special robotic spacecraft captures a suitable asteroid with a space lasso and puts it in a stable orbit around the moon.

NASA has acknowledged that any mission to put astronauts on an asteroid will be fraught with challenges and risks. 
Asteroid mining is also an attractive idea for some private enterprises. Planetary Resources, a US based company, announced last year that it aims to develop a robotic asteroid mining industry. Another US-based firm, Deep Space Industries, said in January this year that they also hope to start a private development of asteroid mineral riches and manufacture products in space.

You can share this story on social media: