Ecuador's FM in UK to talk Assange fate
Published time: 16 Jun, 2013 20:44
Edited time: 17 Jun, 2013 03:32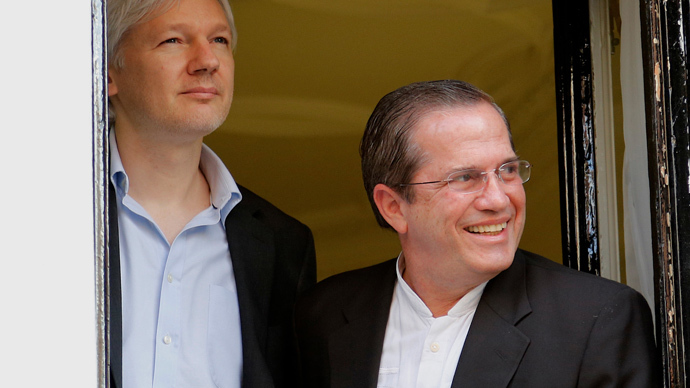 Ecuadorian Foreign Minister Ricardo Patino is in the UK to discuss the future of Julian Assange on the eve of the first anniversary since the WikiLeaks founder has been holed up in the Ecuadorian embassy in London avoiding extradition to Sweden.
Patino met with Assange in the embassy in Kensington, west London, on Sunday evening and Monday the minister will hold talks with Foreign Secretary William Hague.    
"I have just finished meeting with Julian Assange who is in good spirits despite the limitations of his accommodation," Mr Patino said. "I was able to say face to face to him, for the first time, that the government of Ecuador remains firmly committed to protecting his human rights and that we continue to seek cast iron assurances to avoid any onward extradition to a third state."
June 19 will mark exactly a year since Assange, a 41-year-old whistleblower from Australia, walked into the Ecuadorian embassy avoiding the extradition to Sweden where he is wanted for alleged sex crimes against two women – claims that he denies.  

The WikiLeaks founder has been granted political asylum in Ecuador, but to travel there he would have to leave the embassy. The UK has refused to grant Assange a safe passage to the South American republic and he will be arrested the moment he walks out of the building. British authorities have already spent about $US 4.7 million on police guarding the door of the embassy around-the-clock.

Assange does not want to go to Sweden as he fears that he would be extradited to the US for questioning and prosecution over the publications by WikiLeaks of confidential data.   

Patino said he hoped his visit to the UK would help to move the situation forward and Hague would show a degree of flexibility.
However, a breakthrough in the deadlock is unlikely with the Foreign Office saying that it is "committed to seeking a diplomatic solution to this situation and must also ensure that our laws are followed."

"The UK has a legal obligation to extradite Mr Assange to Sweden to face questioning over allegations of sexual offences, and the British police must fulfill this," the body's spokesperson stated.

For Assange these past 12 months have been like living on a space station, and physical circumstances of his captivity "are difficult," he told AFP. The former Australian computer hacker has used a treadmill to get some exercise and a sun lamp – as a substitute for the lack of natural light. However, he is not ready to just give up yet and empathized that despite all difficulties, his mind "is not confined."

The Wikileaks founder believes that London's stance is getting softer and Britain and Ecuador may come to an agreement that will see him finally leave "within a year."

"Of course, [the UK] will never publicly humiliate the United States by offering me safe passage in a manner that doesn't seem to be forced," he noted. "But there's lots of ways of saving the pride of Sweden, Australia, the UK and the United States," Assange added, without clarifying them.

Answering a question about where he will be this time next year, Assange said "Hopefully Australia, Ecuador, traveling the world."

The founder of WikiLeaks - famous for publishing over 250,000 American diplomatic cables -  is also running for a seat in the Australian senate later this year.