Nasrallah to Assange: Hezbollah talked to Syria opposition; we want dialogue, US & Israel want civil war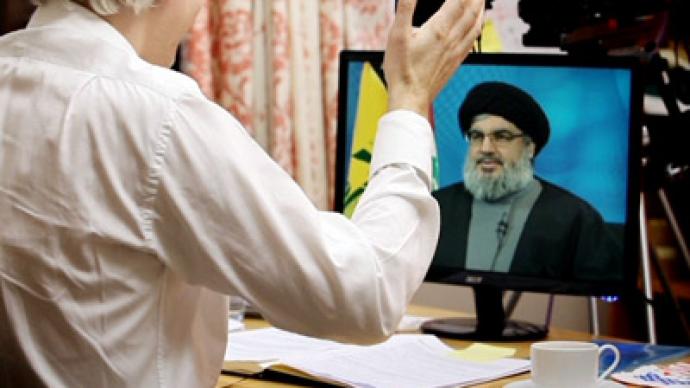 Hezbollah urged the Syrian opposition to engage in dialogue with Assad's regime, but they refused.
­Hezbollah leader Sayyid Nasrallah confirmed this in his first interview in six years, the world premiere of Julian Assange's The World Tomorrow on RT.
Watch the full show on RT's video pageSayyid Hassan Nasrallah told Assange that Hezbollah supports Syrian president Bashar al-Assad as Syria supported resistance in Lebanon and "hasn't backed down in the face of Israeli and American pressure." Nasrallah, a freedom fighter to millions though a terrorist to the US, Israel, Canada and the Netherlands, says Assad's regime "served the Palestinian cause very well."This is why Hezbollah supported the so-called Arab Spring in Tunisia, Yemen, Egypt and elsewhere, but when it came to Syria, Hezbollah urged the opposition to engage in dialog with President Bashar al-Assad."This is the first time I say this – We contacted […] the opposition to encourage them and to facilitate the process of dialogue with the regime. But they rejected dialogue," he revealed. "Right from the beginning we have had a regime that is willing to undergo reforms and prepared for dialogue. On the other side you have an opposition which is not prepared for dialogue and it is not prepared to accept reforms. All it wants is to bring down the regime. This is a problem."Nasrallah called for balance on the Syrian issue as "armed groups in Syria have killed very many civilians" though international blame is leveled squarely at President Assad. Several Arab & non-Arab states are arming and funding the rebels while in the Hezbollah leader's opinion Al-Qaeda simply wants to turn Syria into a battle ground."There is fighting in Syria – when one party retreats, the other will advance, it will go on as long as doors to dialogue are shut," he told Assange.Stressing that Hezbollah supports dialogue, Nasrallah points out that without it, "civil war is the only alternative." In his words "this is exactly what America and Israel want… Arab states are ready for tens of years of dialogue with Israel but won't have two months to try a political solution in Syria."
­
'Israel is illegal state'
To this day Nasrallah believes Israel "is and will be an illegal state… It was established on the basis of occupying the lands of others," he says. "If I occupy your house by force it doesn't become mine in 50 or 100 years."While "Hezbollah does not want to kill anyone", the only solution to the Israeli-Palestinian conflict is establishing a democratic state on Palestinian land where Muslims, Jews and Christians live in peace but the US "won't let people listen to Hezbollah." "Our priority is still the liberation of our land and the protection of Lebanon from the Israeli threat", he told Assange, "Israel's hi-tech surveillance will never crack the code of the Lebanese resistance – they use local village dialects."
Assange show premieres
Sayyid Nasrallah is the first guest on Julian Assange's The World Tomorrow – one of the most anticipated news programs of 2012.The first-episode, with Nasrallah's identity kept secret until broadcast, coincides with the 500th day of financial blockade on WikiLeaks.The 10-episode series features Assange in conversation with "iconoclasts, visionaries and power insiders." Speaking before the premiere, Assange revealed he expects a storm around the show, with media labeling him an "enemy combatant, traitor who interviews "terrible radicals from around the world." The announcement that RT would host Assange's show created a global media stir, with many questioning the RT/Assange link-up. In a pre-show interview Assange explained his rationale."A lot of the things that we have been trying to report have not been carried accurately in the mainstream press. There are many, many fine exceptions, but when we look at international networks there's really only two that are worth speaking about, and that's RT and Al Jazeera."
You can share this story on social media: