Assange wants guarantee he won't be sent to the US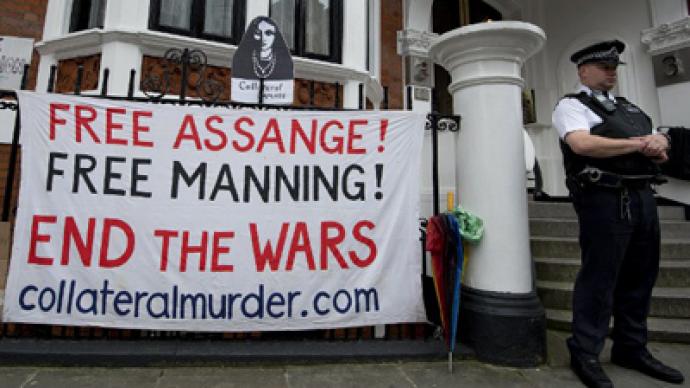 After a week holed up in the Ecuadorian embassy in London, WikiLeaks founder Julian Assange has said he is prepared to go to Sweden for questioning in a sexual assault case – but only if he is guaranteed that he won't be extradited to the United States.
The Australian-born whistleblowing boss made a last-resort bid for freedom last week, when he arrived at the Ecuadorian embassy and asked for political asylum. His request is now being considered by that country's president, and the ambassador has been recalled for consultations as well. Assange and most of his supporters believe that once he arrives in Sweden, he will be extradited to the United States, as Washington wants to pursue him for revealing sensitive information about US military operations in Iraq and Afghanistan. There is also the matter of thousands of leaked diplomatic cables, which have put the US in an uncomfortable position with its allies and partners worldwide. Assange said that "if the US were to guarantee [it would] drop the grand jury investigation and any further investigation of WikiLeaks' publishing activity, that would be an important guarantee… diplomatic commitments do have some weight."Until a decision is made about his asylum application, Ecuador says he will remain under its protection. But Assange faces arrest for breaching the terms of his bail if he leaves the West London building.
You can share this story on social media: