Assange prepared for half-decade stint in Ecuador Embassy – FM Patino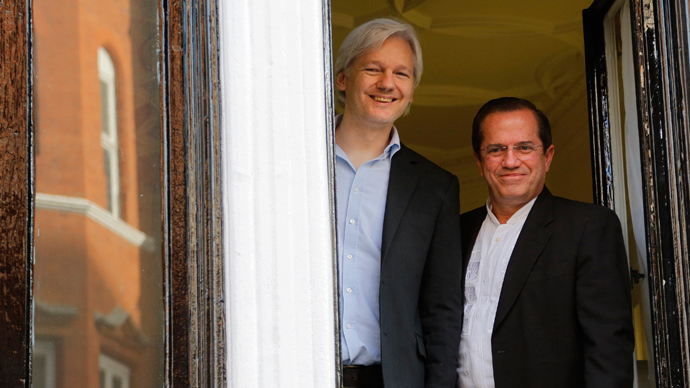 After nearly a year holed up in the Ecuadorian Embassy in London, WikiLeaks founder Julian Assange is ready to spend the next five years on the premises, Ecuador's FM Ricardo Patino said after a meeting with his UK counterpart offered no "breakthrough."
Patino traveled to the UK to meet with British Foreign Secretary William Hague in an effort to find a resolution to the standoff over Assange, who was granted political asylum by Quito last August.
Following a 45 minute bilateral meeting between the two ministers, both sides agreed to keep the channels of communication open, but "no breakthrough" was made on the Assange case, a statement by the UK Foreign Office read.
The ministers further agreed to establish a working group to find a diplomatic solution to the problem, though the Foreign Office reiterated that any resolution would have to "be within the laws of the United Kingdom."
Patino also met with Assange on Monday, saying the WikiLeaks founder remained in "good spirit" despite the limitations his current living conditions offer.
"The Ecuadorean government will continue to ensure that he continues with the protection we have given him under asylum in our country, protecting his life, his personal integrity and particularly his freedom of expression," the BBC cites Patino as saying.
"The Ecuadorean government maintains that the reasons for which Ecuador granted asylum are still relevant, and therefore there is going to be no change in his circumstances," he continued.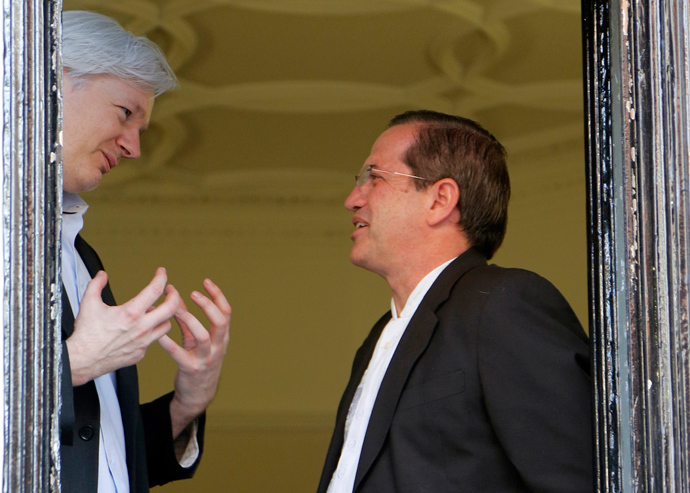 Assange has remained cooped up in a basement room of the Ecuadorian Embassy after first taking shelter in the building on June 19 of last year.
The WikiLeaks founder is wanted for questioning in Sweden over sex crime allegations by two women. Assange has denied the claims, but refuses to return to Sweden for questioning unless he receives strong guarantees that he won't be extradited the United States, where he fears he will be tried for his role in the 2010 US diplomatic cables leak. 

Britain has vowed to arrest Assange if he sets foot out of the embassy in central London, with the strong police presence around the premise costing British taxpayers some $18,000 a day, the Telegraph reports.
On Wednesday, the one year anniversary of Assange's asylum bid, the total price tag of policing the embassy in Knightsbridge is expected to exceed $6.6 million.

You can share this story on social media: