Trial and errors – Assange in court again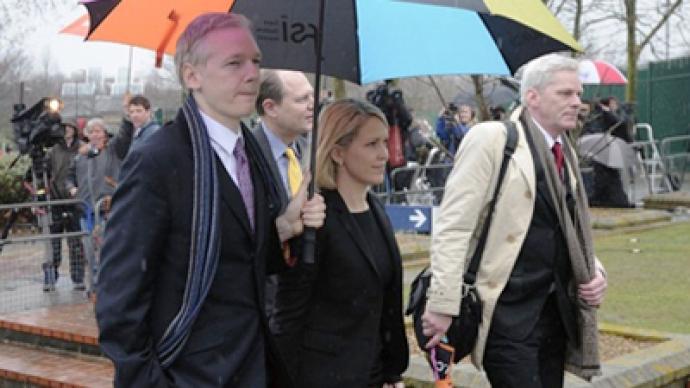 UK court has adjourned the extradition hearing for WikiLeaks founder Julian Assange until February 24, 2011. The judge said he needed more time to think whether Assange should be sent to Sweden to face sex crime allegations.
Judge Howard Riddle has made a statement following a three-day hearing at Belmarsh Magistrates Court in London. Sweden wants Assange to answer questions on allegations of sexual misconduct filed by two WikiLeaks volunteers.On Friday the sides of prosecution and defense delivered summaries of their evidence. The prosecution announced this week it sees no reason why Assange should not go to Sweden to answer questions about those alleged sexual assaults. The defense in turn insists the case is based on human rights violations, since the WikiLeaks founder has not been charged with a crime, therefore there is no reason he should go to Sweden at all.The prosecution informed it has sighted a hundred messages from two alleged victims saying that they expected to be paid and that they wanted revenge on Julian Assange, presumably for having slept with each of them at a very short interval. They have also threatened to contact papers to ruin his reputation.The defense insists it never was given a copy of those messages – which they find wrong. Julian Assange's lawyer Geoffrey Robertson also accused Swedish Prime Minister of creating a "toxic atmosphere" around the case and damaging his client's chances of a fair trial by portraying him as "public enemy number one," Reuters news agency reported.Swedish rape campaigner, the defense's second witness Goran Rudling, believes the case has been conducted in a strange manner from the very beginning. Despite a requirement of a video or tape recording of the interview with the police, the two women accusing Assange of rape merely filed summaries to their allegations."It is the same type of procedure you use when you investigate a bike theft," he concluded.
Rick Falkvinge of Sweden's Pirate Party calls Assange's extradition attempt "a tremendous damage to Sweden's reputation as an upholder of human rights". Nevertheless, he does not find any political set up in this case. "If it were, it would have been handled professionally", he says. "If you look at the history of this case, first, Assange was wanted for rape, then he was wanted for molestation and then for, basically, harassment," says  Falkvinge. "Then he was not wanted for anything at all for about a couple of weeks and then all of a sudden a prosecutor in a completely different district decides to take a look at this case after a phone call and decides that 'I think we are going to charge this man with rape anyway', only he is not charged yet. He is only wanted for extradition to determine if he is going to be charged for anything at all. Now, this isn't really professionally handled."
The case of Julian Assange created a media storm – there are hundreds of media representative filming and talking to him about his every move every time he appears in court.On Friday, a new book on WikiLeaks comes out by Daniel Domscheit-Berg, a man who used to work with Julian Assange and who lived under the same roof with him for a while in Germany.The author of the book accuses the WikiLeaks founder of having an "emperor complex" and harassing Domscheit-Berg's cat, attacking him it show it who was boss.The rumors about the US preparing espionage charges against Assange have not come true so far, though the defense insists he would be very swiftly given to America on those charges in case his extradition to Sweden is a success.Still, the death threats to Assange made in the US by known politicians like Sarah Palin, who proposed to "hunt him down like Al-Qaeda," are there.Sweden's close relations with the US make his further extradition from the country to America quite possible.
You can share this story on social media: