Assad addresses nation: Syrian army 'needs more time'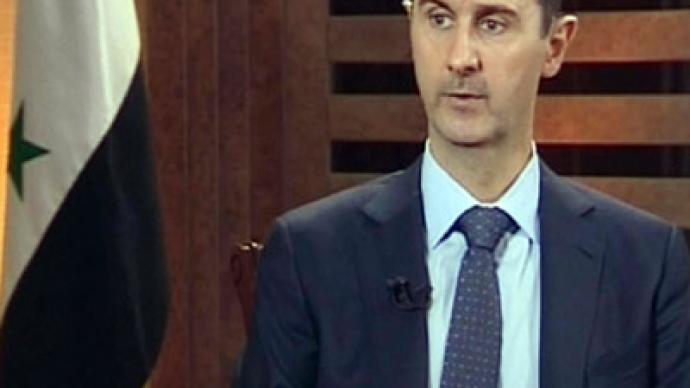 The battle for Syria is moving forward, but the military needs more time to quell the ongoing conflict in the country, President Assad said in an interview with pro-government Al-Dunya TV. The fate of Syria is in the hands of its people, he said.
The channel aired brief excerpts from the interview, in which Assad attempted to reassure the Syrian people and rally them to his cause, saying that pro-regime forces are succeeding, but need more time. "I can summarize in one phrase: We are progressing, the situation on the ground is better but we have not yet won. This will take more time." The Syrian military "definitely needs time to bring [the conflict] to a decisive end," Assad said. Assad also criticized the idea of setting up buffer zones for refugees in Syria, a proposal submitted to the UN by Turkish Foreign Minister Ahmet Davutoglu. "Talk of buffer zones firstly is not on the table and secondly it is an unrealistic idea by hostile countries and the enemies of Syria," Assad said.The entire conflict boils down to a battle of wills, Assad stated. "They have the will to destroy the country – they started in Deraa, then moved to Homs, then Damascus, then Halab, to Deraa to Latakia," he said. "They're trying to move from one location to the other." But the opposition is unable to control any of the territories it claims to have seized, and the army easily enters most such neighborhoods."When the army enters a certain place, it means they are capable of taking it," Assad said. "They believed many of these neighborhoods were out of the government's influence."The Syrian President then thanked the army for its "heroic job," and ridiculed defectors, saying their departure helped the "self-cleansing of the government firstly and the country generally."This was Assad's second TV appearance since his six-week absence after the July assassination of his top security advisors. He denied widespread rumors that he had fled the country, and said that he is staying in "Damascus, in the Republican Palace.""Despite several mistakes, there is a strong bond between the policies of the state and the people," he said. "Everyone is worried about their country – that is normal. But [the rebels] will not be able to spread fear, they never will. … I say to Syrians: Destiny is in your hands, and not in the hands of others."The full version of the interview will air at 18:00 GMT on Wednesday.