Nearly 100 injured in Argentine train crash déjà vu
A commuter train slammed into a busy Buenos Aires station on Saturday morning, injuring 99 people in exactly the same spot where a similar train crash killed 52 others last year. The train went straight through the end-of-line buffers.
The train itself ended up wedged between the floor and ceiling of the platform, with the station bumper being driven into the first car of the train. The disaster occurred on Saturday at 8am local time at the Once railway station in the Argentinean capital. 
Five passengers suffered serious but not life-threatening injuries, according to the city's Health Ministry.

"This is all a tragedy. I saw people hurt, shouting, others thrown on the floor. The people in the first wagon ended up piled on top of each other," Jorge Ramirez, a 47-year-old cook, told AP. He said that the driver had overshot several platforms over the course of the journey.

However, fellow passengers reported no abnormalities and said the train had appeared to be proceeding as usual up to the point of the crash.

Passengers chanted "Murderer, murderer!" through a smashed window at the train's injured driver, who had to be hospitalized in police custody.

"It's a miracle he did not kill anyone," a man who had been on the platform at the time of the crash told local Channel TN. The exact cause of the crash remains unclear.

"Suddenly the train wasn't stopping. It came off the rails and crashed into the ceiling, which stopped it. Then an impressive cloud of smoke came out," said Maxi Jaquet, a hot dog vendor who works inside the station.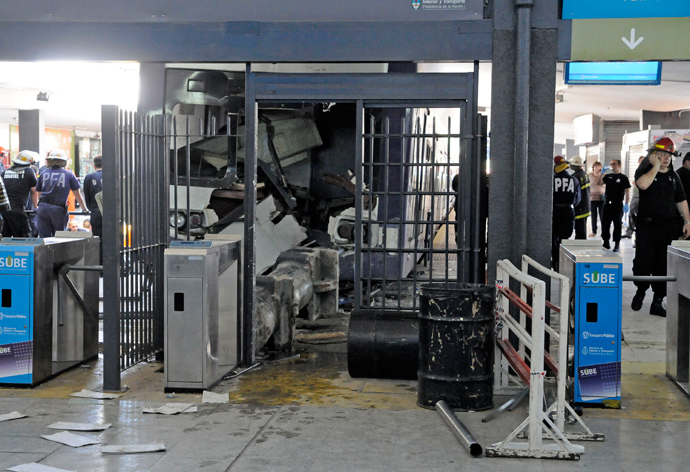 While the injured appeared to be in no immediate or critical danger, five have sustained broken bones. Some passengers and people on the platform were struck by shards of shattered glass from the train windows, according to security secretary Sergio Berni. Emergency service personnel helped evacuate the train.  

The incident echoed the 'Once Tragedy' - a crash which occurred at the same station on February 22, 2012. Fifty-two people died when an eight-carriage train struck the buffers at the end-of-the-line station, having entered it at a reported speed of 50 kilometers per hour. The tragedy prompted two days of national mourning.

It is believed that Saturday's accident was less severe because of decreased weekend commuter numbers and the early hour. However, it will likely renew debate about the state of railway lines in the capital. Following the 2012 tragedy, many politicians and citizens denounced the dismal state of the railway system.
You can share this story on social media: