Tens of thousands of Argentines protest president's policies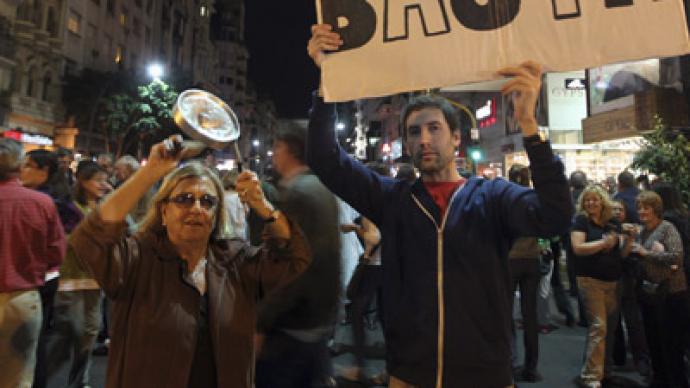 Scores of Argentines took to the street across the country in protest against a virtual ban on the purchase of foreign currencies, and other policies enacted by President Cristina Fernandez. No political party organized the rallies.
Citizens are protesting in the capital of Buenos Aires, as well as other large metro areas such as Rosario, Cordoba and Bariloche. The protesters criticized new currency regulations, high crime rates and a rumored constitutional reform that would allow President Fernandez to hold the country's top office for a third term.As thousands of demonstrators massed at Plaza de Mayo square outside the presidential palace in Buenos Aires, some banged on pots and pans. Others held banners with slogans like "No to the constitutional reform," and "Yes to freedom."President Fernandez cracked down on currency exchanges following her landslide victory in October. The measures aim to curb capital flows from Argentina, and include the mandatory sale of foreign currencies by exporters at a government-determined rate, a limit on how much foreign money a person can buy and a 15 percent tax on foreign purchases made with bank cards.Critics of the measure claimed that the regulations forced companies and people into the black market, where they buy dollars at a much higher rate. Wealthier Argentines have a longstanding habit of saving in dollars to safeguard against the devaluation of their national currency, the peso. Foreign currencies are also used by tourists and business travelers.Protesters coordinated their Thursday actions through social networking sites. Similar, smaller-scale rallies took place in Argentina in June.
You can share this story on social media: