29 Arctic Sunrise crewmembers granted bail, leaving custody
All but one of the 30 Greenpeace activists detained after a protest at Russia's Prirazlomnaya oil rig in September have been granted bail, and over half of them have left custody. They will stay in Russia until legal proceedings are concluded.
The Kalininsky District Court in St. Petersburg this week ordered the release on bail of 29 Greenpeace activists. So far the only person denied bail is 59-year-old Australian radio operator Colin Russell, whose pretrial detention has been extended until Feb. 24. Russell's lawyers plan to appeal the ruling.

As of Friday afternoon, 18 Greenpeace activists have left custody, while the others are waiting until bail of 2 million rubles ($61,300) each is paid for them.
All the activists freed on bail will have to stay in Russia until criminal proceedings against them are over. They face up to a maximum of seven years in prison if convicted on hooliganism charges.

29 of the #Arctic30 has been granted bail, but not our friend and colleague Colin. We will keep fighting for his release. #FreeColin

— Arctic Sunrise (@gp_sunrise) November 22, 2013
On Friday, Greenpeace announced on Twitter that the captain of Arctic Sunrise, Peter Willcox (US), along with activists Mannes Ubels (The Netherlands), Kieron Bryan (UK) and Paul Ruzycki (Canada) had left the detention facility after their bail was paid.
On September 19, after staging an attempt to seize Russia's Arctic drilling rig Prirazlomnaya in the Pechora Sea, 30 crewmembers (from 16 countries) of the Arctic Sunrise ship were detained by Russian Coast Guards and brought to Murmansk.
Greenpeace activists were charged with piracy and ordered to be held in pre-trial detention for two months. Later, the charges were changed to hooliganism and the detainees were transferred to the Kresty detention center in St. Petersburg on November 12.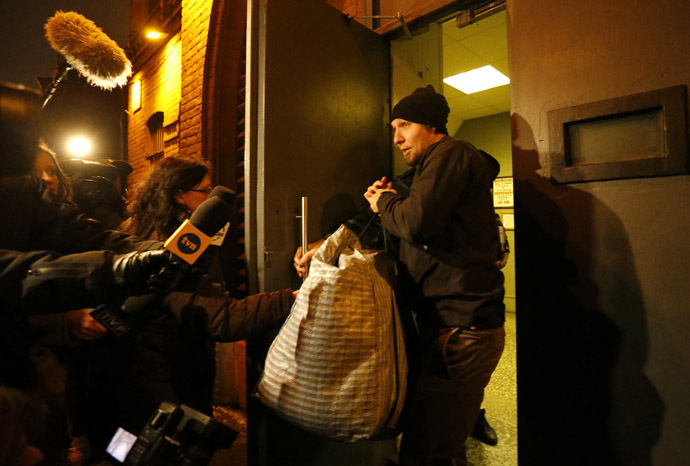 The release of activists started Monday, exactly two months after the arrest, when the court ruled that Arctic Sunrise's doctor Ekaterina Zaspa and freelance photographer Denis Sinyakov would be released on bail of 2 million rubles. Later the same day, Greenpeace press officer Andrey Allakhverdov, a Russian citizen, was also ordered to be freed.
On Tuesday, Nov. 19, nine more activists were granted bail. Over the next two days, 11 Greenpeace activists left the detention center. The remaining activists are expected to leave prison this weekend when the bailout money is transferred. 
The International Tribunal for the Law of the Sea ordered Russia Friday to release the Greenpeace ship and its crew in return for a 3.6 million euro ($5 million) bond. The Hamburg based tribunal accepted a request from the Netherlands, where the Greenpeace ship, the Artic Sunrise, is registered to order the provisional release of the ship and its crew. Russia has said that it will not accept the tribunal's decision.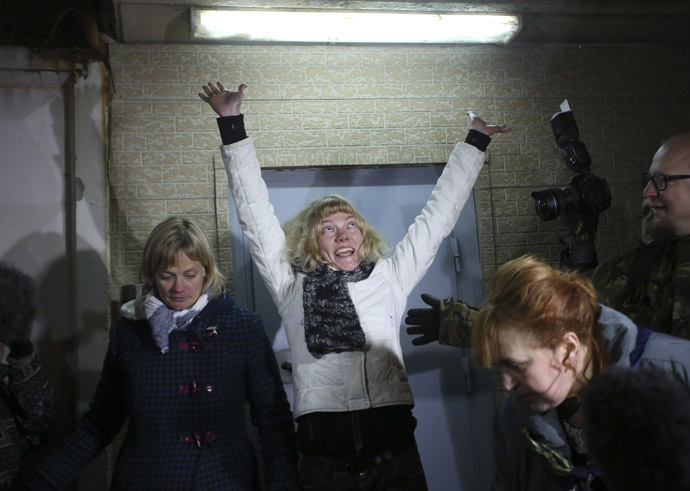 Greenpeace activists granted bail:
Ekaterina Zaspa (RUS)
Denis Sinyakov (RUS)
Andrey Allakhverdov (RUS)
Ana Paula Alminhana Maciel (BRA) 
Miguel Hernan Perez Orsi (ARG)
David John Haussmann (NZ)
Tomasz Dziemianczuk (PL)
Camila Speziale (ARG)
Cristian D'Alessandro (ITA)
Paul Ruzycki (CAN)
Sini Saarela (FI)
Francesco Pisanu (FRA)
Alexandra Harris (UK)
Faiza Oulahsen (NL)
Anne Mie Jensen (DA)
Ruslan Yakushev (UA)
Gizem Akhan (TU)
Alexandre Paul (CAN)
Jonathan Beauchamp (NZ)
Frank Hewetson (UK)
Iain Rogers (UK)
Roman Dolgov (RUS)
Anthony Perrett (UK)
Marco Weber (SZ)
Peter Willcox (US)
Mannes Ubels (NL)
Kieron Bryan (UK)
Philip Ball (UK) 
Dmitry Litvinov (SWE)
Still in custody:
30. Colin Russell (AUS)
You can share this story on social media: