Snowden ally Appelbaum says his Berlin apartment subject to raids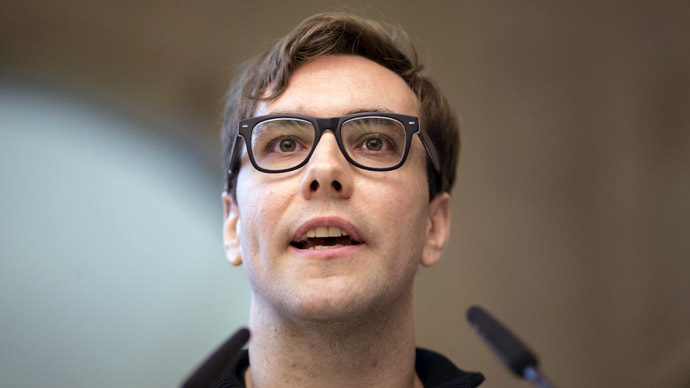 Jacob Appelbaum, a Berlin-based US journalist with access to some of Edward Snowden's documents, claims there have been a series of raids on his apartment, saying he suspects possible US involvement.
In an interview with "Berliner Zeitung" published on Saturday he described strange scenarios which have been haunting him. "When I flew away for an appointment, I installed four alarm systems in my apartment," Appelbaum said.

"When I returned, three of them had been turned off. The fourth, however, had registered that somebody was in my flat - although I'm the only one with a key. Some of my effects - the positions of which I carefully note - were indeed askew. My computers had been turned on and off," he added.

"The monitoring pressure has ultimately destroyed my relationship with my girlfriend," he mourned. The internet activist, journalist and cybersecurity specialist is a core member of the Tor encrypted network and has well-documented ties to WikiLeaks.

His decision to move to Berlin was made because he considered Germany to have better privacy protection, and because he felt unsafe in the US after repeated detentions at American airports following his trips abroad.

However, he suspects that he remains the subject of investigation. "When one begins to keep a register, then the growing frequency falls on you," he told the paper.

"On 10 October, for example, there were two women trying to get into my apartment. They pretended that the property management had given them a key to enter because they wanted to rent the apartment. I called the property management - they knew nothing about it and had not issued a key"

Appelbaum believes that the intention behind the incidents is to make him feel uncomfortable - so that he knows they "care" about him "while leaving no possible evidence."

Appelbaum is one of the few people with access to some of the data obtained by Snowden. Since June, Snowden has been releasing scandalous information about the extent of NSA surveillance practices, and in August in Berlin, Appelbaum read out Snowden's acceptance speech when he received the Whistleblower Prize from a group of NGOs.

He has been no stranger to problems with the law, having been detained by US Customs multiple times and has had cell phones and laptops seized and searched. His affiliation with hacking collectives and WikiLeaks has made him a frequent target of federal probes, often without any real repercussions.

In 2011 it was revealed, that the US government successfully forced Google and Sonic, a small Internet Service Provider from northern California, to fork over personal data from Appelbaum's email account.

He reiterated his commitment to internet freedoms and the right to privacy. "It's about protecting our core values against a totalitarian surveillance state - whether in analogue or in the digital world," he said.
You can share this story on social media: