Down the drain in the rain: $1 billion highway washed away in Far East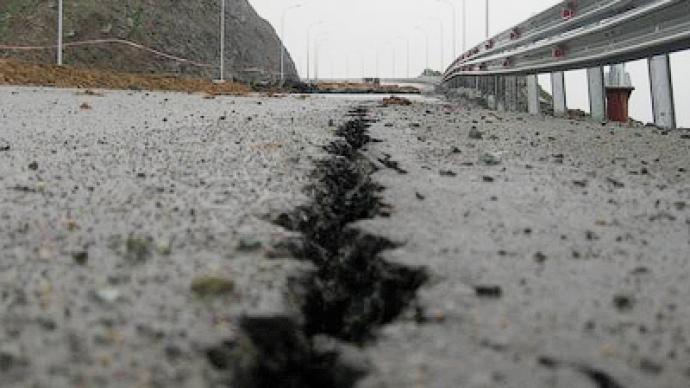 The brand new road built for the APEC 2012 summit has not survived a mere rain in Russia's Vladivostok. Almost $1 billion in stone, bitumen and pebble raveled out across a beach. Meanwhile, the typhoon season is coming up.
The base of the highway towering as high as 30 meters (98 feet) above the ground started to wash out on Tuesday."The hill caught on soaking and began crumbling because of the rain. Now the traffic along the road is blocked," Aleksandr Yurtaev, a member of Vladivostok Assembly, told PrimaMedia.Sides of a bridge along the route have drooped on a public beach; the base-on-the-run turned the favored leisure spot into a hazard. The road itself is all cracks and hollows with construction balks hanging in the air.
All this comes just three months before Asian Pacific Economic Cooperation summit. The brand new road, running for some 40 kilometers (25 miles) and connecting the airport with Vladivostok, has been built to speed up the transfer of world leaders. Local authorities cite design faults – in a project that weighed 29 billion rubles (almost $1 billion) in the country's budget."This was a regular two-day rain. Typhoons come in August-September. Do they know?" wonders the Russian segment of Twitter microblogs.Local weather watch says "they" know."Previous year we warned the authorities of typhoons. We even suggested the summit be one weak postponed," pointed out Boris Kubai, the head of Primorsky Meteorological Office.Some $20 billion have been invested to upgrade Vladivostok and its area to welcome APEC high guests.  This is the second most expensive infrastructure project in Russia after Olympic Games in Sochi.
Some $20 billion have been invested towards upgrading Vladivostok and its surrounding area to welcome APEC guests. This is the second-most expensive infrastructure project in Russia, after preparations for  the Olympic Games in Sochi. Besides the roads, several bridges and conference halls have been built.Now prosecutors are to see whether this case is indeed a "design fault." Locals say that if it proves to be so, they wonder how long other "upgraded" and new objects would be able to operate problem-free. One of the new bridges is an ambitious 3,100-meter long lane connecting Vladivostok to Russky Island across the Bosporus East Strait, where the core events of the APEC forum are to be held. There are fears that it may follow in the steps of the Volgograd "dancing" bridge, which bombed through the Russian media in 2010.Many critics of special APEC projects call them "a corruption outlet." Questions have been raised about how justified APEC costs are, seeing the expenses outdo the Winter Olympic Games in Vancouver several times. Russia's government replied that most of the construction is from scratch, while the climate conditions do not alleviate the budget burden.
You can share this story on social media: